ASRock X670E PG Lightning - Nice AMD Zen 4 Motherboard For $250 USD
When it comes to new AMD AM5 motherboards featuring an X670 series chipset, one of the cheapest options right now is the ASRock X670E PG Lightning that retails for around $249 USD. I picked up one of these motherboards at launch and has been working out well on Linux for those wanting to build a cost-minded AMD Zen 4 desktop system.
The ASRock X670E PG Lightning remains the cheapest X670/X670E motherboard currently retailing at the likes of NewEgg. Even cheaper are the B650/B650E motherboards but for those wanting an X670 class chipset, the ASRock X670E PG Lightning remains the best available option. Since purchasing the board, NewEgg has even sweetened the deal with currently offering free Crucial 16GB DDR5 memory with new AM5 motherboard purchases -- this board included. Though that free DDR5 RAM offering is 2 x 8GB DDR5-4800, it's still nice value and good for starting off if trying to assemble an AMD Zen 4 desktop that's nice on the budget.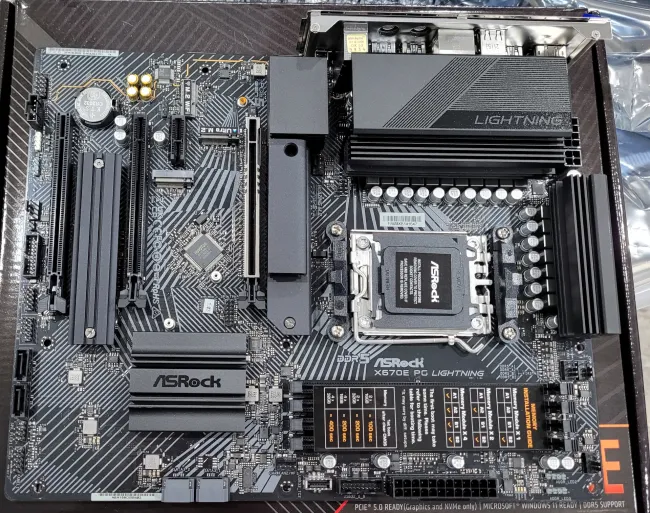 The ASRock X670E PG Lightning ATX motherboard features a 14+2+1 VRM phase power design, one PCIe 5.0 x16 slot, one PCIe 4.0 x16 slot, one PCIe 4.0 x1 slot, one M.2 PCIe Gen5x4 slot, one PCIe Gen4x4 slot, Realtek 2.5G LAN, and other connectivity common to AMD AM5 motherboards.
While ASRock advertises only Microsoft Windows 10 and Windows 11 as the supported operating systems for this motherboard, I wasn't worried in using a modern Linux distribution on them given the success with other AMD X670 motherboards on modern Linux distributions from my prior testing and this motherboard not having anything too unique.
Sure enough, running Ubuntu 22.10 with the Linux 5.19 kernel was working out fine for this $250 AM5 motherboard. On the stock Linux 5.19 kernel all of the core functionality was working just fine, including the Realtek 2.5G LAN.
I've been running the ASRock X670E PG Lightning for a few weeks now using the Ryzen 5 7600X and Ryzen 7 7700X processors and GSKILL 2 x 16GB DDR5-6000 EXPO memory has been working fine without issues on this board. With a modern Linux distribution and a recent kernel (I'd say Linux 5.19+), you should be in good shape.
As of Linux 6.1 Git there isn't any motherboard sensor support working under Linux for the ASRock X670E PG Lightning as one of the few blemishes. With time though that will hopefully change if caring about any of the integrated motherboard sensor monitoring support under Linux. If that is important to you, ASUS motherboards lately have been seeing the most robust and timely support by the open-source community.
Anyhow, the main takeaway from this quick article is just to relay that I have the ASRock X670E PG Lightning running well under Linux for several weeks now and haven't hit any obstacles with it for those looking at building a lower-cost AMD Ryzen 7000 series Linux desktop. Just make sure you are on a modern distribution like Ubuntu 22.10. At $250 USD this for now is one of the lowest cost AMD X670(E) motherboard options for a Zen 4 build. All the specifications for those interested can be found at ASRock.com. More Linux test/benchmark articles featuring this motherboard will be found over the coming weeks on Phoronix.
If you enjoyed this article consider joining Phoronix Premium to view this site ad-free, multi-page articles on a single page, and other benefits. PayPal tips are also graciously accepted. Thanks for your support.