Happy Holidays! If you enjoy all the original Linux hardware reviews and open-source news content on Phoronix, consider joining Phoronix Premium this holiday season. For Black Friday / Cyber Monday, there is a cyber week special to go premium and enjoy an ad-free experience, native dark mode, and multi-page articles presented on a single page.
AMD Ryzen Threadripper 7980X & 7970X Linux Performance Benchmarks
Last month AMD announced the Ryzen Threadripper 7000 series along with the new Threadripper PRO 7000 WX Series for bringing Zen 4 to the HEDT and workstation space. Ahead of AMD Ryzen Threadripper 7000 series processors becoming available via DIY retailers on the 21st, today marks the review/performance embargo expiration for the Threadripper 7000 series. First up today is a look at how the new Threadripper 7970X 32-core and Threadripper 7980X 64-core processors are performing for Linux HEDT workstations... Or the TLDR: the incredible Linux performance and potential for a wide-range of creator and developer workloads now possible with the Ryzen Threadripper 7000 series.
As a reminder from last month's article covering the Threadripper 7000 / PRO 7000 WX Series highlights, the Threadripper 7970X is the 32-core / 64-thread HEDT part with a 4.0GHz base frequency and 5.3GHz boost frequency. The 7970X has 128B of L3 cache and 350 Watt TDP. The Threadripper 7970X for DIY builds is expected to retail for $2499 USD.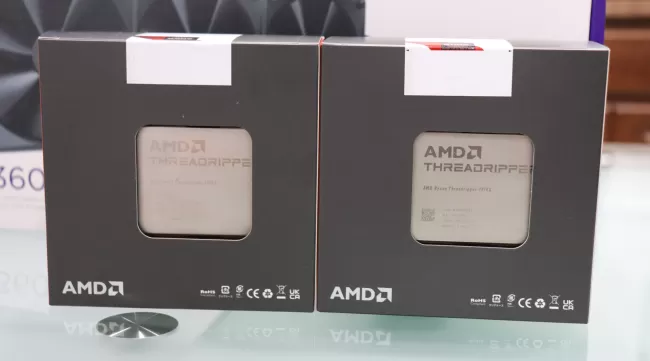 The Threadripper 7980X at the top-end of the Threadripper 7000 series stack is the 64-core / 128-thread processor with a 3.2GHz base frequency and up to 5.1GHz boost frequency. The 7980X doubles the L3 cache to 256MB and maintains the 350 Watt limit for this sTR5 processor. The expected retail price of the Threadripper 7980X is $4999 USD.
The Threadripper 7980X is the top-end product of the HEDT non-PRO stack but over with the Threadripper PRO 7000 WX-Series there is the AMD Ryzen Threadripper PRO 7995WX with 96-cores / 192-threads with a 5.1GHz boost frequency and 384MB of L3 cache. Today on Phoronix is also a separate review on that incredible Threadripper PRO 7995WX processor.
As a reminder, the Ryzen Threadripper 7000 series processors support up to four DDR5 memory channels while it's with the PRO 7000 WX Series handling up to 8 DDR5 channels. There are also the other extra AMD PRO technologies features with those PRO processors on the WRX90 platforms as well as up to 148 PCIe lanes compared to 92 PCIe lanes with the HEDT platform.

A size comparison between Ryzen Threadripper 7000 series and AMD EPYC 9004 series.