We Rely On Your Support: Did you know that the hundreds of articles written on Phoronix each month are mostly authored by one individual working insane hours? Phoronix.com doesn't have a whole news room with unlimited resources and relies upon people reading our content without blocking ads and alternatively by people subscribing to Phoronix Premium for our ad-free service with other extra features. You can also consider a tip via PayPal.
NVIDIA GeForce RTX 2080 Linux Gaming Benchmarks
While we have delivered many Linux benchmarks the past number of weeks from the GeForce RTX 2070 and GeForce RTX 2080 Ti, up until recently we didn't have access to the RTX 2080 that is the card positioned between those two current consumer Turing graphics cards. In kicking off our RTX 2080 Linux benchmarking, here is a look at the Linux gaming performance compared to an assortment of AMD Radeon and NVIDIA GeForce graphics cards tested on Ubuntu Linux while in the days ahead will be the OpenCL/CUDA tests and more.
The GeForce RTX 2080 features 2944 CUDA cores, rated for 57T RTX-OPS and 8 Giga Rays/s, features a 1710MHz reference boost frequency and 1515MHz GPU base clock frequency, and 8GB of GDDR6 video memory rated for 448 GB/s of memory bandwidth.
Most GeForce RTX 2080 graphics cards are pushing $799 to $849~899 USD depending upon the AIB model, but back during Black Friday I was able to get this Zotac GeForce RTX 2080 for just $709 USD albeit now is back up to $798 USD. The Zotac model features a blower style heatsink fan setup and foregoes any LED/RGB lighting for those preferring a modest PC setup.
For those curious, Zotac does list "Linux 64-bit" among the supported operating systems for this graphics card... It's always fun seeing which NVIDIA/AMD partners mention Linux or not.
The GeForce RTX 2080 requires a 6-pin and 8-pin PCI Express power connectors for sufficient operation.
The connector setup is similar to the other NVIDIA RTX graphics cards with having three DisplayPort connections, one HDMI, and one VirtualLink/USB-C for next-gen VR headsets.
On the AMD side of this RTX 2080 Linux benchmarking comparison today were the Radeon RX 580, RX Vega 56, and RX Vega 64 graphics cards tested using Linux 4.20 Git with Mesa 19.0-devel built against LLVM 8.0 for a bleeding-edge driver setup. On the NVIDIA side was the latest 415.18 driver used for testing and the cards re-tested there were the GeForce GTX 980, GTX 980 Ti, GTX 1060, GTX 1070, GTX 1070 Ti, GTX 1080, GTX 1080 Ti, RTX 2070, RTX 2080, and RTX 2080 Ti for a complete look at the recent NVIDIA Linux gaming landscape.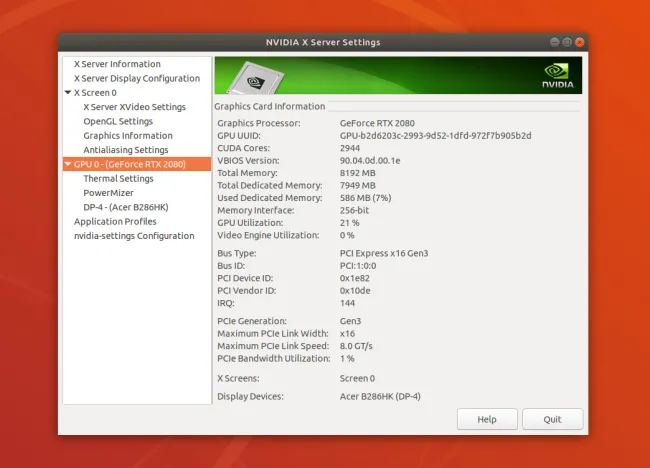 All of these OpenGL/Vulkan Linux gaming benchmarks were carried out using the Phoronix Test Suite benchmarking software and the system setup was the Intel Core i9 9900K + ASUS PRIME Z390-A + 16GB DDR4-3200 + Samsung 970 EVO 256GB NVMe SSD running Ubuntu 18.04 LTS. Besides looking at the raw gaming performance, there is also AC system power consumption data, including performance-per-Watt metrics generated by PTS as well as performance-per-dollar metrics using current retail pricing in the US.