ATI Radeon HD 5450 On Linux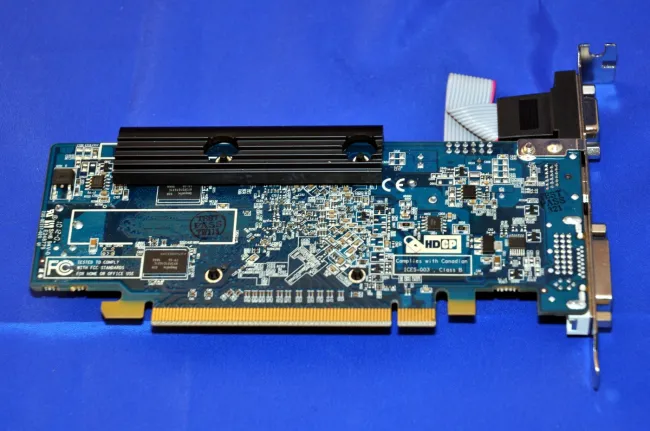 Linux Setup:
To no surprise, the ATI Radeon HD 5450 had worked fine under Linux. There has been kernel mode-setting for this Evergreen-series ASIC for a few months now while the open-source 2D/3D acceleration just came a few weeks ago. The level of open-source support for the Radeon HD 5000 series products right now is not nearly as complete or mature as that for previous ATI graphics processor generations, but eventually it will get there and at some point, there will also be a Gallium3D driver for the Evergreen ASICs rather than the classic Mesa driver. For now though, the best choice if you are looking to use the Radeon HD 5450 for a home-theater PC, desktop, or very lightweight gaming system would be to use the proprietary ATI Catalyst driver on Linux.
We will have open-source tests of this graphics cards and others in the Radeon HD 5000 series family shortly, but in this article we are using the Catalyst 10.8 Linux driver for our benchmarking. The system this graphics card and the others were tested on had an Intel Core i7 920 CPU clocked at 3.60GHz, an ASRock X58 SuperComputer motherboard, 3GB of DDR3 system memory, a 320GB Seagate ST3320620AS SATA HDD, and a Dell S2409W LCD monitor. The other graphics cards we re-tested for comparison were an ATI Radeon HD 4650, ATI Radeon HD 5750, ATI Radeon HD 5770, NVIDIA GeForce GT 220, and a NVIDIA GeForce GT 240.
For this Linux graphics benchmarking of the ATI Radeon HD 5450 we used the Nexuiz, Warsow, OpenArena, Lightsmark, Unigine Sanctuary, Unigine Tropics, and Unigine Heaven test profiles via the Phoronix Test Suite. With the ATI Radeon graphics cards we used the Catalyst 10.8 / fglrx 8.76.7 / OpenGL 4.0.10151 driver and on the NVIDIA side was their NVIDIA 256.53 driver release. Ubuntu 10.04 LTS (x86_64) was the base operating system with the Linux 2.6.32 kernel, X.Org Server 1.7.6, and an EXT4 file-system. All graphics cards were running at their stock speeds.