Are AMD Athlon/Sempron APUs Fast Enough For Steam On Linux, Steam Machines?
Earlier today the latest installment of our extensive Linux testing of AMD's new Athlon AM1 APUs were shared in the form of RadeonSI vs. Gallium3D benchmarks of the Radeon R3 Graphics found with these new entry-level APUs. Not included with that open-source vs. closed-source driver testing was any Source Engine / Steam Linux game testing due to an XCB DRI3 issue, but this article is devoted to looking at the Catalyst performance for the Sempron 2650, Sempron 3850, Athlon 5150, and Athlon 5350 to see whether any of these APUs can make the cut for a budget Steam Machine.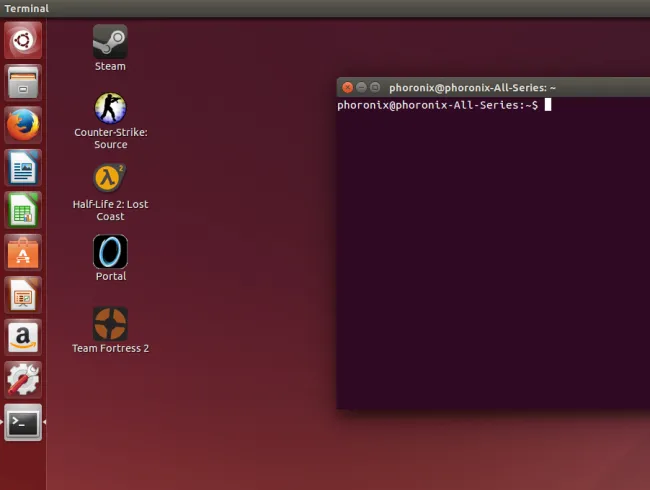 With all four of these brand new AMD AM1 APUs bearing Radeon R3 Graphics, they were tested using the Catalyst Linux driver (fglrx 13.35.5 / OpenGL 4.3.12798) when using Ubuntu 14.04 LTS. The games tested were Counter-Strike: Source, Half-Life 2: Lost Coast, and Portal. With each of these Valve Source Engine games we benchmarked them at six different resolutions: 1024 x 768, 1280 x 960, 1600 x 900, 1280 x 1024, 1680 x 1050, and 1920 x 1080. This way we can see quite well if there's CPU/GPU bottlenecks and at what resolutions (if any) the APUs deliver playable frame-rates with the Catalyst Linux driver. As outlined in the article earlier today, the Catalyst driver is still significantly faster than RadeonSI Gallium3D for these new AMD APUs.
With three games, six resolutions for each game, and four APUs, that's 72 benchmark runs right there of the Valve games... Plus with the fact that we run each test always a minimum of three times to ensure reproducibility in the results, that's over 200 benchmark runs right there for this article... Fortunately, with our open-source benchmarking software -- the Phoronix Test Suite and OpenBenchmarking.org -- it's made very easy. The tests are fully automated from installation to test execution and result rendering, including turning this massive data set into three simple line graphs. For more information visit the aforelinked project sites above along with Phoromatic for the very best in open-source benchmarking. For more details on running benchmarks of these recent Steam on Linux games, read this article, but it basically comes down to issuing: phoronix-test-suite benchmark portal cstrike hl2lostcoast. It's that easy if you want to reproduce these results of ours or see how your own system compares to this data.
So for those wanting to know how these four APUs with Radeon R3 Graphics (also advertised as Radeon HD 8240, HD 8280, and HD 8400), all of this data from the three Valve Linux games are on the next page. Testing was done from Ubuntu 14.04 but the performance should be similar if running SteamOS given that they're running the same Catalyst driver and both operating systems share a similar lineage of Debian GNU/Linux.