Amazon Fire TV - A Quick Look
This week Amazon unveiled the Fire TV as a small network appliance primarily for HD video streaming and complemented by some gaming and mobile app capabilities. The Fire TV is powered by Amazon's Android-based Kindle Fire OS so in this weekend review are my initial impressions of this Linux-based media system after using it the past two days.
The Amazon Fire TV is a $100 USD device currently only available in North America. The device was hard-launched by Amazon on 2 April and I've already been playing around with my Phoronix version the past two days.
The Fire TV is built around a Qualcomm Snapdragon 8064 SoC with a quad-core Krait 300 ARM 1.7GHz processor and Qualcomm's Adreno 320 graphics. The system has 2GB of LPDDR2 system memory and 8GB of internal storage. The Fire TV supports 1080p streaming and Dolby Digital Plus 5.1 surround sound. This ARM-based Android-running Amazon TV system is designed to compete with the likes of the Apple TV and Roku boxes.
Amazon will also be selling a $40 game controller for the Fire TV separate from the device. The Amazon TV is also advertised as a basic game console for the living room but that's out of the scope of this review.
The controller for Amazon's Fire TV is rather simple but powerful. There may not be many buttons to the controller, but there's a built-in microphone that exposes much of the capabilities of the device.
The Fire TV itself is very small and is just over the size of a palm. The dimensions are roughly 115 x 115 x 17.5 mm and the weight comes in at 280 grams.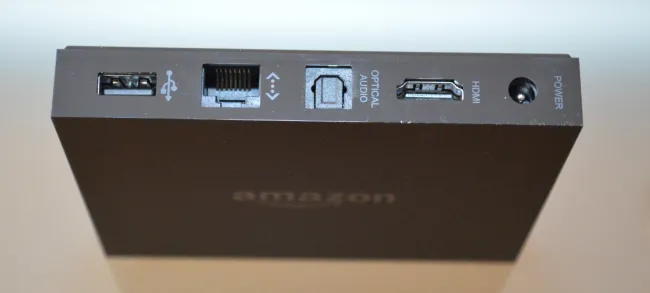 The device has 802.11 b/g/n WiFi while the physical connections on this system include one USB port, Gigabit Ethernet, optical audio capable of Dolby Digital Plus 5.1 surround sound, HDMI, and the power connection.
From a hardware perspective, the device is rather nice.