Trying Out JSAUX's Assortment Of Steam Deck Accessories
For those looking to purchase any holiday stocking stuffers or Christmas gifts for Steam Deck gamers there is a wide assortment of accessories offered by JSAUX. This electronics accessories supplier recently sent over a number of their Steam Deck accessories including their 6-in-1 and 7-in-1 docking stations, protected standing case, and glass screen protector. Here's a look at these great holiday gifts for Steam Deck owners.
JSAUX has been around since 2016 as an independent company focused on electronics accessories and reportedly has enjoyed more than 20 million unique customers. They offer a range of battery chargers, hubs and docks, adapters, and other accessories.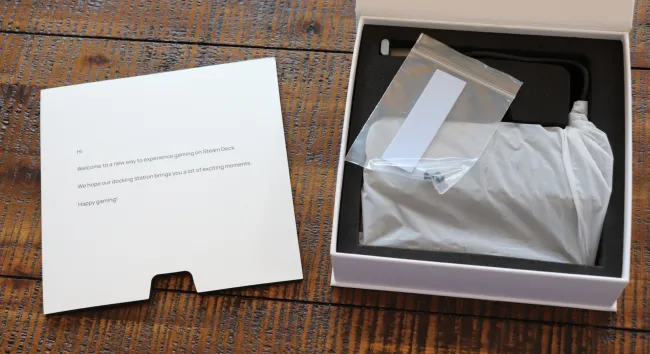 It's only been over the past number of months that I've been hearing more and more of JSAUX due to their growing number of Steam Deck accessories. JSAUX kindly sent over review samples for a number of their Steam Deck add-ons for looking at how well these independent accessories work out for the Steam Deck.
While Valve's Steam Deck itself is quite durable and I've been fortunate to not have caused any physical damage to it going back to my pre-launch testing, a protective standing case is one of the items that was sent over by JSAUX. The JSAUX PC0105 protective standing case provides some additional protection to the Steam Deck should it slip out of your hands, the case provides for some extra grip, and the fold-out kickstand makes it easy if wanting to rest the Steam Desk vertically on your desk/table.
JSAUX's protective case for the Steam Deck has worked out well and is designed that it doesn't interfere with any of the buttons on the Steam Deck nor does it obstruct any airflow. There were no cooling issues found when testing out the Steam Deck with this case. JSAUX sells this protective standing case ofr the Steam Deck for around $22 USD. It's a good value for some added protection to the Steam Deck especially among younger gamers or if frequently finding yourself having sweaty hands while enjoying the Steam Deck.
JSAUX also sent over their Steam Deck Screen Protector. JSAUX's Screen Protector Kit for the Steam Deck includes two glass protectors offering full-screen coverage. Again, a nice layer of protection and can pair nicely with their protective case. This screen protector is a 7-inch tempered glass to help prevent scratches to the screen or other damage. With the included tools, installing the screen protector on the Steam Deck was easy and a similar process to that of a cell phone screen protector.
The JSAUX GP0107 2-pack screen protector package for the Steam Deck has worked out well and retails for just $10~12 USD. With the JSAUX protective stand and screen protector, I was finally comfortable enough letting me three year old son play with the Steam Deck for a while and not fearing that he would damage the device. Sure enough, there was one drop onto the hardwood floor but thankfully the Steam Deck held up fine with the protective case.