Gigabyte 3D Mercury Water Cooled Case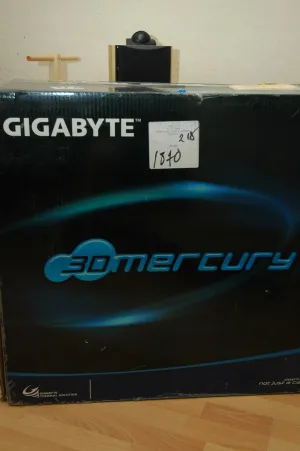 Water cooling used to be a very daunting task for all but the most experienced enthusiasts. It required time, dedication, and knowledge of many different types of components, and installing them in an orderly, professional matter was a very time consuming process. Many have simply jumped ship, including me, and returned to air-based cooling solutions over the past years. But nowadays, water cooling is becoming more and more accessible. Just about every vendor involved in the cooling business provides all-in-one systems, 5.25" bay contraptions, and integrated case solutions. Today we have Gigabyte's 3D Mercury integrated water-cooling case for review. The 3D Mercury is built around Gigabyte's 3D Galaxy water cooling system but is built into a large chassis that is compatible with even Extended ATX motherboards.
Specifications:
- Dimensions: 205 x 620 x 535 mm (W x H x D)
- Aluminum Front Bezel
- Silver or Black Models Available
- Ventilated Steel Mesh & Transparent Acrylic Side Panel
- Aluminum Body With Strengthened Nickel-coated Rear Plate
- 12kg Net Weight
- 4 x 5.25" Drive Bays
- 2 x 3.5" Drive Bays
- 5 x 3.5" Internal Drive Bays
- 7 Expansion Slots
- ATX / Micro ATX / E-ATX / CEB Form Factor
- 2 x 12cm Fans (Front & Rear)
- 2 x LCS 12cm fan with fan speed controller
Contents:
The box of the 3D Mercury is simply massive -- the Cooler Master Cosmos 1000 box came close to its size. However, the box didn't arrive in very good shape. Apparently, it had taken some abuse from the shipping process. The contents of the package were untouched, so the box did its job well. As soon as we had opened the box, we were presented with a Styrofoam tray containing various accessories for the case. There is a manual and a quick-start guide, a MOSFET cooling fan, a power supply bracket for long units, and a box containing two 600mL bottles of Gigabyte's "GBT coolant." All of the other components, such as mounting hardware, thermal paste, etc are contained in a black box that fits neatly into the 3.5" bay. There is also a mesh side panel that is included that can be swapped in if depending on user preference. There are two versions of the 3D Mercury, a silver one and a black one; the sample for today's review is the black version.
The pass4sure deals in all kind of HP2-Q04 certification training tools including latest pass4sure 70-177 dumps and HP0-J41 video tutorials.