SuperTuxKart 1.4 Released With Initial Vulkan Renderer
SuperTuxKart 1.4 is out today as the newest feature release to this open-source kart racing game originally inspired by Mario Kart.
Notable with SuperTuxKart 1.4 is having an initial Vulkan renderer to complement its long-standing OpenGL renderer. This Vulkan renderer for SuperTuxKart has come together over the past few months and is considered in a beta state for SuperTuxKart. SuperTuxKart isn't exactly heavy on any modern GPU, but nice anyhow to see it supporting this modern graphics API.
During this beta phase, the SuperTuxKart Vulkan renderer can be activated using the "--render-driver=vulkan" launch argument. (Too bad though their max FPS handling at 120 FPS remains mucked up and regressed for benchmarking purposes...)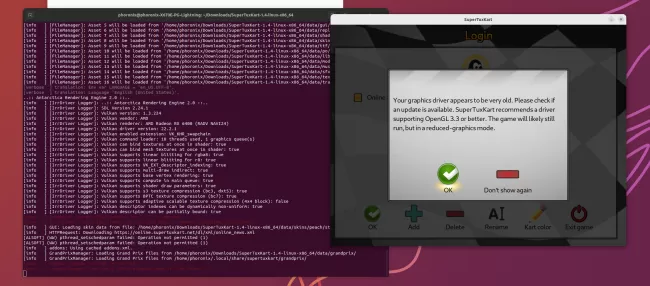 SuperTuxKart 1.4 also implements HiDPI support in its SDL2 integration, provides LOD optimizations, new animations, macOS support improvements, networking improvements, and a variety of other refinements.
Downloads and more details on the SuperTuxKart 1.4 release via
supertuxkart.net
.