Mesa 23.0 Graphics Drivers Aim For Release Next Week
Barring any release-blocking issues from coming up in the next week,
Mesa 23.0
aims for its official release while 23.0-rc3 is now available for last minute testing.
Mesa 23.0 release manager Dylan Baker has managed a rare ahead-of-schedule release with 23.0-rc4 and is aiming to issue 23.0.0 next week unless any bugs come up that warrant blocking the release milestone. So if all goes well Mesa 23.0.0 will be out on 1 February, a nice change of pace with an ahead-of-time release compared to Mesa's quarterly releases often dragging into the third month.
With Mesa 23.0-rc3 there are various bug fixes to the Intel (ANV) and Radeon (RADV) drivers, several Zink OpenGL-on-Vulkan fixes, and other random fixes throughout. However, the changes over the past week since 23.0-rc2 don't contain any fixes overly exciting unless you happened to be impacted by any of the particular bugs.
The full list of Mesa 23.0-rc3 fixes can be found on the
mesa-announce list
.
Besides the RC changes over the past week, Mesa 23.0 during its feature development period added support for various new Vulkan extensions: Radeon "RADV" driver added VK_EXT_descriptor_buffer, VK_AMD_shader_early_and_late_framgent_tests, VK_AMD_shader_explicit_vertex_parameter for RDNA3, VK_EXT_swapchain_colorspace, and more. The Vulkan mesh shader functionality is also now enabled by default for RADV with Radeon RX 6000 series hardware on Linux 6.1+ for the gang submit support. Also notable with Mesa 23.0 is better Vulkan ray-tracing support for RADV and many other RDNA3 performance improvements and fixes/optimizations.
Over on the Intel side there have been continued optimizations for DG2/Alchemist Arc Graphics and other enhancements in general. Mesa 23.0 also has more work on Zink, Microsoft's Dozen for Vulkan on D3D12 is in much better shape, some fixes/attention to the HasVK driver for old Intel hardware with Vulkan, accelerated video encoding for guest VMs with Virgl, and initial support for RTX 30 "Ampere" GPUs with the Linux 6.2 kernel Nouveau support.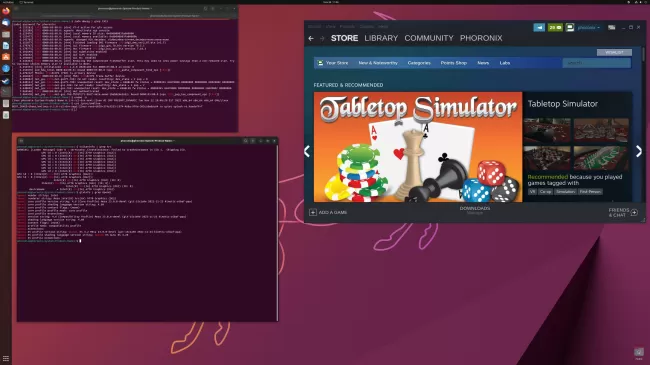 Mesa 23.0 has been working out great in my testing thus far.
Here's to hoping that everything works out nicely for the Mesa 23.0 debut next week.