Show Your Support: Did you know that you can get Phoronix Premium for under $4 per month? Try it today to view our site ad-free, multi-page articles on a single page, and more while the proceeds allow us to write more Linux hardware reviews. At the very least, please disable your ad-blocker.
Wayland Development Continues Picking Up
Now that there's been the latest development statistics on
Mesa / Gallium3D
and the
X.Org Server
, here's some fresh numbers concerning the development pace of
Wayland
and the reference
Weston
compositor.
Wayland is obviously much younger than either the X Server and Mesa and it's development pace is still rising as more parties become interested in this Linux technology and as the project prepares for its major 1.0 milestone release later in 2012.
The Wayland Git repository itself now consists of 82 files that amount to 14,203 lines of code spread across 1067 commits from 58 developers. These statistics are as of this morning and generated using GitStats on the mainline Wayland and Weston repositories.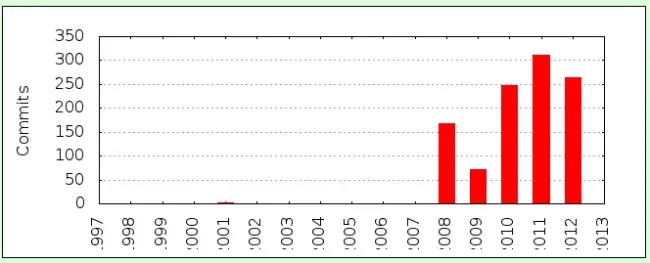 As of this morning we're up to 265 commits for the year, which have added 12,567 lines of code while removing 4,911 lines of code from Wayland. In comparison, 2011 saw 311 commits to Wayland while there were 248 commits in 2010.
Kristian Høgsberg certainly remains the number one contributor to Wayland. Høgsberg, the founder of the Wayland project which started out as
a small personal project back in 2008
, has 763 commits while the developer with the second most commits has less than 50. In second is Pekka Paalanen followed by Benjamin Franzke, Tim Wiederhake, and Ander Conselvan de Oliveira. Intel Open-Source Technology Center developers dominate the list of most frequent contributors with Intel employing a large team of developers -- inclusing Kristian himself -- to advance Wayland/Weston. While
Canonical wants to use Wayland a system compositor
in Ubuntu 12.10 later this year, no Canonical employee is on the list of most active Wayland contributors. Their upstream contributions to this point have been minimal.
Kristian's impact on the Wayland code-base is obvious.
Wayland continues to grow in size. The large drop in size came when the reference compositor was split into the separate Weston repository.
Weston
as the reference Wayland compositor amounts to 47,275 lines of code spread across 137 files in 2019 commits from 55 developers.
Year-to-date Weston has already seen nearly 900 commits, which smashes away the number of commits of any previous year.
The most active Weston contributors is similar to that of Wayland: Kristian easily tops the list while the overall list is dominated by Intel developers.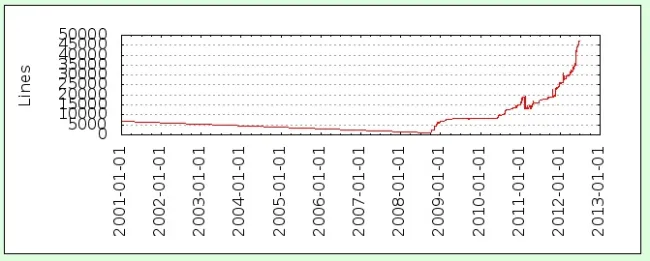 Weston is quickly growing in size.