Sapphire Radeon HD 4870 Toxic Vapor-X
System Setup:
Our test setup for this graphics card review consisted of an Intel Core 2 Duo E8400 clocked at 4.02GHz, ASUS P5E64 WS Professional (Intel X48) motherboard, 2GB of OCZ DDR3-1333MHz memory, Western Digital 160GB Serial ATA 2.0 hard drive, and an OCZ EliteXStream 800W power supply. Ubuntu 8.04 LTS (x86_64) was the Linux distribution in use with the Linux 2.6.24 kernel and X Server 1.4.1 pre-release. We were using the latest public Catalyst driver at the time of testing, which is Catalyst 8.9.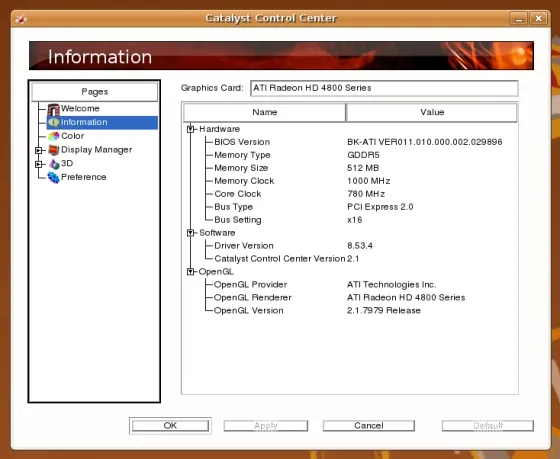 The Sapphire Radeon HD 4870 Toxic arrived with a 30MHz increase for the RV770XT core and a 100MHz boost when it came to the GDDR5 memory, but we were still able to push this high-end graphics card even further. Using AMD OverDrive For Linux the configurable range for the GPU core is between 500MHz and 820MHz. The memory range is 1000MHz to 1200MHz. We were able to push this graphics card up to its 820/1200MHz limit, but when running the OpenGL tests we had experienced a number of artifacts. The highest frequencies at which we found this graphics card to run stable were with an 800MHz core clock and 1150MHz memory clock. This is a 20MHz core and 150MHz memory increase beyond the factory overclock.
For benchmarking this graphics card we were using Phoronix Test Suite 1.2.2. The tests we used included Doom 3, Enemy Territory: Quake Wars, Unigine Sanctuary, Unigine Tropics, and GtkPerf. All benchmarks were done with 8x anti-aliasing and 8x anisotropic filtering as set through the AMD Catalyst Control Center Linux Edition. To compare the performance we had also re-benchmarked the Sapphire Radeon HD 4850 Toxic 512MB, Sapphire Radeon HD 4870 512MB, the Sapphire Radeon HD 4870 Toxic 512MB graphics card being tested today, and the VisionTek Radeon HD 4870 X2 2GB graphics card. We had run the Sapphire HD 4870 Toxic at its 780/1000MHz factory overclock and then again at the 800/1150MHz OverDrive state.