We Rely On Your Support: Have you heard of Phoronix Premium? It's what complements advertisements on this site for our premium ad-free service. For as little as $3 USD per month, you can help support our site while the funds generated allow us to keep doing Linux hardware reviews, performance benchmarking, maintain our community forums, and much more. You can also consider a tip via PayPal.
ODROID-N2 Offer Six Cortex-A73/A53 Cores For $65~82, Good Performance In Linux Benchmarks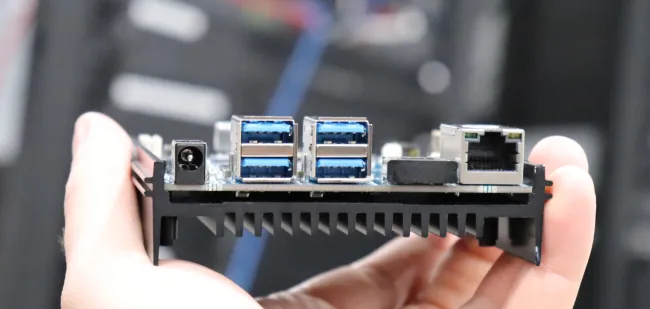 Overall we are very happy with the performance out of Hardkernel's ODROID-N2. The performance with its four Cortex-A73 and two Cortex-A53 cores was very competitive especially considering the board costs just over $80 USD for the 4GB RAM version (or $65 USD if only needing 2GB of RAM). The performance is very good in fact and opens up the ODROID-N2 for serving multiple hobbyist use-cases and even as a very lightweight ARM Linux desktop or other environments.
What we also like are:
- 4GB DDR4 system memory
- 4 x USB 3.0 ports
- Gigabit Ethernet
- The Mali Bifrost graphics are in the process of being freed thanks to the Panfrost DRM/Gallium3D driver effort
For those wanting to see how your own Linux board(s) compare to the performance of the ODROID-N2, I uploaded additional results via this OpenBenchmarking.org result file. After installing the Phoronix Test Suite simply run phoronix-test-suite benchmark 1904211-HV-ODROIDN2942 for your very own side-by-side, automated benchmark comparison from start to finish.
For those wondering about the thermal performance of the ODROID-N2, thanks to the large aluminum heatsink I haven't seen any noticeable thermal throttling or other issues. Here are various tests of the exposed SoC and DDR temperatures under different workloads. Under various single and multi-threaded workloads, the SoC and DDR4 memory never cracked 50 degrees Celsius under load and the average temperature under load was just 40 degrees thanks to this large passive heatsink. The minimum temperature during idle and starting out the benchmarks was just 31 degrees. More data in this OpenBenchmarking.org result file.
Thanks to Hardkernel for sending over the ODROID-N2 for testing and those wanting to learn more about this ARM SBC can do so at Hardkernel.com.
If you enjoyed this article consider joining Phoronix Premium to view this site ad-free, multi-page articles on a single page, and other benefits. PayPal tips are also graciously accepted. Thanks for your support.