AlphaShield X2 Professional Firewall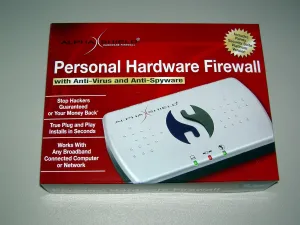 Two years ago to this day we had first reviewed the AlphaShield Hardware Firewall. This product was unlike anything we had ever come across, as it was personal dedicated hardware firewall designed for consumer use. The firewall is designed to be placed between the cable/DSL modem and router, or to be placed as the intermediary on the network to a specific computer, in order to add an additional layer of security. In fact, the AlphaShield Firewall claims a 100% guaranteed level of security or your money back. Since we first had the AlphaShield Firewall at Phoronix back in 2004, they have continued to revolve around improving network security, and have recently unleashed the AlphaShield Professional Edition, and they are in the process of developing an AlphaShield Wireless Router. This new wireless router, once available, will have five Gigabit Ethernet LAN ports, print server abilities, security benefits, and more. Today we are having our second look at AlphaShield as we take a look at their professional edition firewall, and see if this device can live up to its precedence set two years ago.
Features:
· Unique "GAP" technology (Trademark: AlphaGAP)
· RPA (Real-time Packet Authorization)
· IP Stealth Technology (Makes your computer invisible to hackers)
· Stand-alone hardware sentry
· Manual Mode (Timed connection with a logical disconnect)
· Auto Mode (Continuous connection with an optional logical disconnect)
· Lock Mode (Timed connection with a physical disconnect)
· Instant manual connect/disconnect function
· Auxiliary Port for other IP devices such as VOIP
· Blocks all 65,536 ports for both TCP-IP and UDP communications
· Stops most third party pop-ups
· True plug n' play installation and operation
· No technical knowledge needed for setup and installation; less than 1 min. setup
· No future software patches or upgrades required
· Functions with all operating system platforms
· Compatible with Cable, xDSL, or ISDN
· Firmware immune to viruses and alterations
· No conflicts with existing firewalls or routers or any other security software
· Eliminates DOS (Denial of Service) and DDOS (Distributed Denial of Service) attacks
· Provides 24/7 online protection
Contents:
The benefits of the AlphaShield Professional Edition is that it comes with Panda Platinum 2006 Edition (for those users running Microsoft Windows and need this sort of protection), and the Professional Edition also allows you to open ports that are required to host games or other programs that require open incoming ports. These two differences differentiate between the Home and Professional versions of the AlphaShield. Since the first time we looked at the AlphaShield Firewall product, its retail packaging has changed. Listed on this red box are all of the various product features and claims; from a few second installation, to 100% guarantee against hackers. The contents for the AlphaShield Professional Edition include the hardware firewall device itself, Panda Platinum 2006 Installation CD, one CAT5 cable, DC power adapter, and AlphaShield user guide.