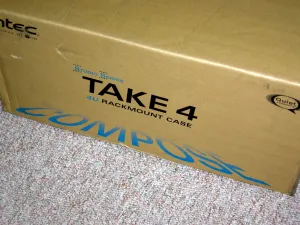 It has been quite a while since we last had an Antec ATX chassis at our facilities; in fact, it is the first time all year with a new Antec article since we looked at their Performance TX640B. However, today we are back with Antec as we look at one of their rackmount cases that has been called the Take 4 to signify its 4U specifications, as an alternative to the 3U Take 3. While some in the industry could care less about a rackmount chassis as long as it serves its purpose, Antec has taken into consideration when engineering the chassis that noise, poor airflow, and case temperatures all have room for improvement. Some of the features for the Antec Take 4 include a 450W ATX12V v2.0 PSU, power supply isolation, USB and Firewire headers, two TriCool fans, and all of this is backed by Antec's three-year warranty. Both the Take 3 and Take 4 are apart of Antec's Studio series.
Features:
· Drive Bays:
2 external 5.25\u201d bay
2 external, 4 internal 3.5\u201d bay
· 450W ATX12V v2.0 Power Supply
· Rubber grommets to absorb hard drive vibration.
· Power supply is isolated from the system to keep the system cooler.
· Front ports:
2 x USB2.0,
1 x Firewire (IEEE1394)
· Cooling system:
1 x 120mm TriCool
1 x 92mm TriCool
Contents:
Receiving the Antec Take 4 retail sample, we were certainly shocked by its weight simply when picking up this package from the courier. In fact, the emptied chassis alone weighs about 16kg. While this is not the heaviest chassis we have come across, it is certainly heavier than some cheaper 4U rackmounts and ATX towers we have come across. Of course, the Antec Take 4 is designed for recording studios and IT departments -- not a gaming chassis that you would want to lug around to LAN parties. The Take 4 unit came inside of a relatively thick cardboard container; inside of this were Styrofoam blocks to prevent the case from being damaged. The case itself was also wrapped in a thick layer of plastic. With Antec producing various computer components since 1986, they have experimented with various types of packaging, and with that said, we have not come across any damaged Antec products in the past few years whether it be power supplies or cases. In addition to the chassis was a standard US power cable, Antec Studio Take 4 users manual, and a bag of accessories -- which ranged from mounting hardware and an I/O panel to an ATX power extension cable.