AMD Ryzen 5 7600 / Ryzen 7 7700 / Ryzen 9 7900 Linux Performance
Last week at the AMD CES 2023 keynote hosted by Lisa Su, new 65 Watt Ryzen 7000 series processors were announced. These more affordable Zen 4 processors are going retail this week and today marks the embargo lift. Up on the Linux testing block are the Ryzen 5 7600, Ryzen 7 7700, and Ryzen 9 7900 processors.
These new non-X Ryzen 7000 series processors come in at a lower price point and also include a heatsink fan to further increase the value proposition for Ryzen 7000 series desktop processors.
These 65 Watt TDP CPUs offer the same great Zen 4 features as the existing Ryzen 7000 series processors, including AVX-512, PCIe 5.0, and the on-chip Radeon graphics. The 12-core/24-thread Ryzen 9 7900 has a suggested price of $429, the 8-core Ryzen 7 7700 for $329 USD, and the 6-core Ryzen 5 7600 for $229.
Unlike the Ryzen 7000 X-series processors, there are heatsinks bundled with these new retail CPUs. Since the original Ryzen 7000 series launch, more AM5 motherboards have come to market -- and at lower price points -- and increasing availability around DDR5 memory modules helping to ease prices.
AMD believes these new parts represent significant generational uplift over the Ryzen 5000 series and against Intel's Alder Lake and Raptor Lake competition.
These non-X series CPUs do support overclocking. Sadly, there still is no AMD Ryzen Master for Linux or any easy real-time, Linux-based overclocking solution for AMD CPUs. But AMD EXPO and the like can be easily set from within the BIOS setup area.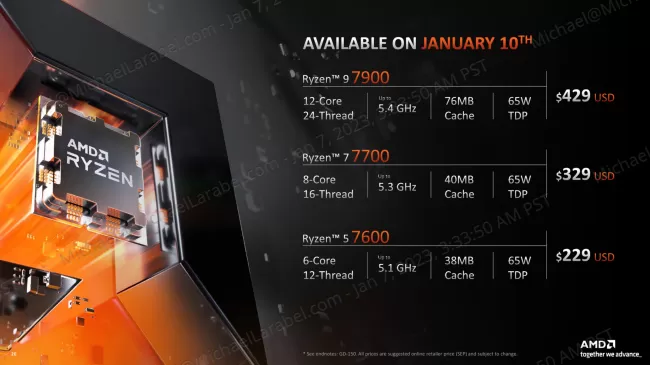 These processors will be available in retail channels starting tomorrow while today is the review embargo lift. So let's move on to looking at the Linux performance for all three new Zen 4 desktop processors.