Happy Holidays! If you enjoy all the original Linux hardware reviews and open-source news content on Phoronix, consider joining Phoronix Premium this holiday season. For Black Friday / Cyber Monday, there is a cyber week special to go premium and enjoy an ad-free experience, native dark mode, and multi-page articles presented on a single page.
Blender 3.4 HIP Performance With Radeon RX 7900 Series + RDNA3 OpenCL Compute Benchmarks
Earlier this week was the initial Radeon RX 7900 XT and RX 7900 XTX Linux review focusing on the gaming performance while in today's article is a look at the Radeon RX 7900 series when running on Blender 3.4 with its Cycles HIP back-end as well as various OpenCL compute benchmarks against the older Radeon graphics cards and NVIDIA GeForce competition.
This round of testing was using the newly-released Radeon Software for Linux 22.40 driver atop Ubuntu 22.04.1 LTS. With this packaged driver and installing the ROCm/HIP components and OpenCL, both Blender 3.4 was working with the HIP back-end as well as various OpenCL programs.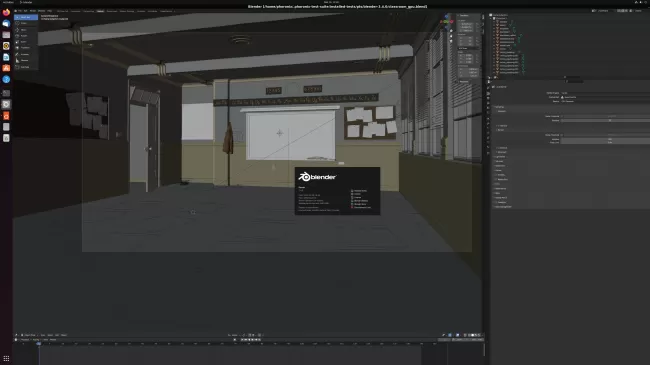 OpenCL 2.0 is currently exposed when using AMD's Linux packaged driver with these Radeon RDNA3 graphics cards.
Running the packaged driver was fine on the Radeon RX 7900 XT/XTX graphics cards for these compute-focused tests so far. At least on the compute side the RDNA3 graphics cards were also behaving fine with the Ryzen 9 7950X test system that was misbehaving with the open-source upstream graphics tests. OpenGL/Vulkan benchmarks of this packaged driver on these new graphics cards in comparison to the upstream open-source state will be coming in a future Phoronix article.
First up in today's RDNA3 Linux benchmarking is looking at the Radeon RX 7900 XT/XTX with Blender 3.4 using the HIP back-end against other AMD GPUs as well as NVIDIA GPUs, there testing both with the NVIDIA CUDA and OptiX ray-traced back-ends. Following that are various OpenCL compute benchmarks for those interested.
Tested on the AMD side were the Radeon RX 6800, RX 6800 XT, RX 7900 XT, and RX 7900 XTX. Tested on the NVIDIA side were the GeForce RTX 3080, RTX 3080 Ti, and RTX 3090. As mentioned in prior articles, unfortunately I have yet to be supplied any Linux testing review samples of the NVIDIA GeForce RTX 40 series hardware. So I can't yet provide any commentary on how the GeForce RTX 40 Blender/compute performance is under Linux or any other Linux driver limitations there may be right now due to the lack of NVIDIA cooperation.