Show Your Support: This site is primarily supported by advertisements. Ads are what have allowed this site to be maintained on a daily basis for the past 18+ years. We do our best to ensure only clean, relevant ads are shown, when any nasty ads are detected, we work to remove them ASAP. If you would like to view the site without ads while still supporting our work, please consider our ad-free Phoronix Premium.
Testing 60+ Intel/AMD/NVIDIA GPUs On Linux With Open-Source Drivers
With Thursday marking the ten year anniversary of launching Phoronix.com and also the six-year anniversary since the public 1.0 debut of the Phoronix Test Suite, there's a lot of interesting articles that I've been working on to celebrate these two milestones. For your viewing pleasure today is easily the largest graphics processor comparison that's ever happened at Phoronix... I've tested over 60 GPUs from the Intel HD Graphics, AMD Radeon, AMD FirePro, and NVIDIA GeForce series to see how their performance is when using the very latest open-source Linux graphics drivers on Ubuntu.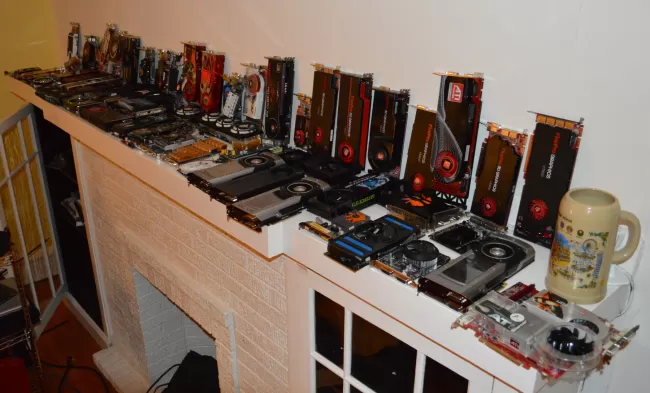 In this article the OpenGL performance for this vast assortment of graphics cards from over the years is being tested using the latest open-source graphics driver code for thee three big vendors. This article is just part one while other upcoming articles to round out this testing include: a look at the Linux 2D acceleration performance for many of these GPUs, delivering an article that looks at these graphics results when measuring the power consumption / performance-per-Watt / GPU temperatures, and then lastly is re-doing all of the graphics card testing but using the proprietary AMD and NVIDIA Linux graphics drivers. I've been working on this set of articles for the massive Linux GPU drivers for weeks in celebration of Phoronix turning ten years old.
The only restrictions for this massive Linux graphics processor comparison were limited to GPUs within my possession that were PCI Express compatible or when it came to the integrated Intel HD Graphics, the available Haswell CPUs. The GPUs tested cover both low and high-end GPUs and go back several generations on the AMD and NVIDIA side. The GPUs I had available for testing in this article included:
Intel HD Graphics 4400 (Core i3 4130)
Intel HD Graphics 4600 (Core i7 4770K)
AMD Radeon X800XL 256MB
AMD Radeon X1800XL 256MB
AMD Radeon X1800XT 256MB
AMD Radeon X1950PRO 256MB
AMD Radeon HD 2600PRO 256MB
AMD Radeon HD 2900XT 512MB
AMD Radeon HD 3650 512MB
AMD Radeon HD 3850 256MB
AMD Radeon HD 4550 512MB
AMD Radeon HD 4650 512MB
AMD Radeon HD 4670 512MB
AMD Radeon HD 4770 512MB
AMD Radeon HD 4830 512MB
AMD Radeon HD 4850 512MB
AMD Radeon HD 4870 512MB
AMD Radeon HD 4870 X2 2GB
AMD Radeon HD 4890 1GB
AMD Radeon HD 5450 512MB
AMD Radeon HD 5750 1GB
AMD Radeon HD 5770 1GB
AMD Radeon HD 5830 1GB
AMD Radeon HD 6450 1GB
AMD Radeon HD 6570 1GB
AMD Radeon HD 6770 1GB
AMD Radeon HD 6870 1GB
AMD Radeon HD 6950 2GB
AMD Radeon HD 7850 1GB
AMD Radeon HD 7950 3GB
AMD Radeon R7 260X 2GB
AMD Radeon R9 270X 2GB
AMD Radeon R9 290 4GB
AMD FirePro V3800 512MB
AMD FirePro V4800 1GB
AMD FirePro V4900 1GB
AMD FirePro V5800 1GB
AMD FirePro V5900 2GB
AMD FirePro V7800 2GB
AMD FirePro V7900 2GB
AMD FireGL V8600 1GB
AMD FirePro V8700 1GB
AMD FirePro V8750 2GB
AMD FirePro V8800 2GB
NVIDIA GeForce 8500GT 256MB
NVIDIA GeForce 8600GT 256MB
NVIDIA GeForce 8800GT 256MB
NVIDIA GeForce 9500GT 1024MB
NVIDIA GeForce 9600GSO 512MB
NVIDIA GeForce 9800GT 512MB
NVIDIA GeForce 9800GTX 512MB
NVIDIA GeForce GT 220 1GB
NVIDIA GeForce GT 240 512MB
NVIDIA GeForce GTX 460 768MB
NVIDIA GeForce GT 520 1024MB
NVIDIA GeForce GTX 550 Ti 1GB
NVIDIA GeForce GT 610 1GB
NVIDIA GeForce GTX 650 1GB
NVIDIA GeForce GTX 680 2GB
NVIDIA GeForce GTX 750 1GB
NVIDIA GeForce GTX 750 Ti
NVIDIA GeForce GTX 760 2GB
NVIDIA GeForce GTX 770 2GB
NVIDIA GeForce GTX 780 Ti 3GB
NVIDIA GeForce GTX TITAN 6GB
Thanks to Intel, AMD, and NVIDIA along with their AIB partners for those that have supplied graphics cards to Phoronix over the years. Many of these GPUs I have also purchased myself retail, particularly the more recent Radeon graphics cards, due to AMD's seemingly greater interest with Windows coverage and budget factors.
All of these graphics cards were tested from a system with an Intel Core i7 4770K Haswell CPU on a Gigabyte Z97-HD3 motherboard with 16GB of RAM and a 120GB Samsung 840 Series SSD. On the software side was Ubuntu 14.04 LTS 64-bit with the Unity 7.2 desktop, X.Org Server 1.15.1, GCC 4.8.2, and the default EXT4 file-system. For this comparison to deliver the very latest open-source graphics driver code, the system was upgraded to the Linux 3.15 kernel and Mesa 10.3.0-devel. The latest X.Org drivers were loaded that included xf86-video-ati 7.3.99 Git, xf86-video-intel 2.99.911, and xf86-video-nouveau 1.0.10. This article is just looking at the OpenGL performance across these GPUs on the latest open-source drivers while, as mentioned already, the same roundabout will happen with the proprietary drivers in the days ahead.
Unlike the proprietary graphics drivers, the open-source Linux GPU drivers don't deprecate support for older graphics series... So even the Radeon X1000 series and other older graphics cards in this article still remain supported by the open-source drivers. However, the support does regress from time-to-time with the open-source drivers not going through as much QA as the proprietary drivers at Intel, AMD, and NVIDIA. While 65 graphics processors were tested from the start, several of the GPUs ran into problems. So in the end, there were around 50 graphics processors tested that were in good shape. The problems encountered with the other GPUs are all documented on the next few pages.
As a notice before getting started, if you appreciate all of this extensive Linux hardware testing done exclusively at Phoronix, please consider subscribing to Phoronix Premium. Premium subscribers are able to view the site ad-free, view multi-page articles on a single page, and it goes to support the site. At the very least, due to the vast amount of time I single-handedly invest into the site, please don't use AdBlock for Phoronix.com.