Show Your Support: This site is primarily supported by advertisements. Ads are what have allowed this site to be maintained on a daily basis for the past 18+ years. We do our best to ensure only clean, relevant ads are shown, when any nasty ads are detected, we work to remove them ASAP. If you would like to view the site without ads while still supporting our work, please consider our ad-free Phoronix Premium.
Trying DragonFlyBSD & FreeBSD On The Intel Core i9 9900K With ASUS PRIME Z390-A
Since last month's Intel Core i9 9900K launch for this eight core / sixteen thread processor we have explored its performance for Linux gaming, how the performance and power efficiency go from the Intel 990X to 9900K, the Spectre mitigation costs, and the Intel Coffeelake Refresh performance across various Linux distributions. For those curious about using the new Intel CPUs and Z390 motherboards with one of the BSD operating systems, I spent a few days over the weekend trying out FreeBSD and DragonFlyBSD releases with the i9-9900K and ASUS PRIME Z390-A motherboard combination.
Long story short, if you are a BSD operating system user, the Core i9 9900K support is in good shape on the leading BSDs. There were not any stability problems, compatibility concerns, or other troubles to deal with for this sixteen thread processor that has a boost frequency hitting 5.0GHz. While the Z390 is only an incremental upgrade over the Z370 motherboards that have been out for the past year, there were some issues on that front.
The first issue encountered was DragonFlyBSD 5.2.2 failing to boot. Immediately when booting the DragonFlyBSD 5.2.2 image in UEFI mode, there was a kernel panic immediately. This appears to be a UEFI issue with DragonFlyBSD 5.2.2, but fortunately when trying the latest daily DragonFlyBSD 5.3-DEVELOPMENT image, it successfully booted in UEFI mode without faults. It was also possible with DragonFlyBSD 5.2.2 to boot on this system in the BIOS mode as another option. This UEFI issue wasn't encountered on FreeBSD 11.2/12.0 nor MidnightBSD 1.0.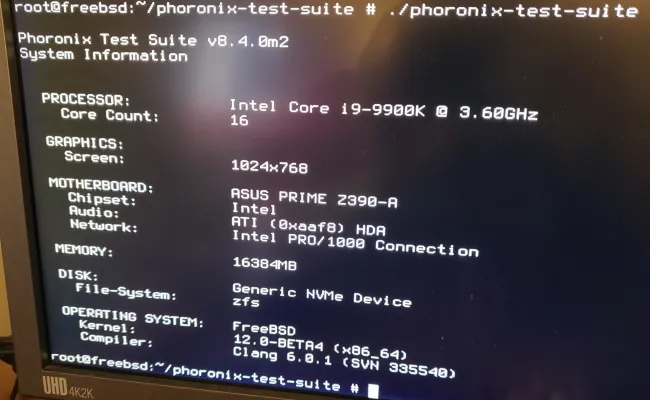 Another issue encountered on both DragonFlyBSD 5.2.2 and 5.3-DEVELOPMENT was the integrated NIC not being detected. That's just a PCI ID addition and will hopefully be in place soon for DragonFlyBSD. Fortunately, FreeBSD 12 and even the current 11.2 release had this networking support in place so there was no issues there.
Aside from the DragonFlyBSD 5.2.2 UEFI issue causing the boot to fail and the network adapter PCI IDs missing for this Z390 motherboard, the rest of the BSD support for this latest Intel CPU and chipset were in good shape. DragonFlyBSD 5.3-DEVELOPMENT and FreeBSD 12.0 Beta 4 in particular were both stressed for hours on this system without any issues.
For those curious about the performance of DragonFlyBSD and FreeBSD on the Intel Core i9 9900K relative to various Linux distributions, I did fire off some benchmarks during this testing. DragonFlyBSD 5.3 and FreeBSD 12.0 Beta 4 were benchmarked against Clear Linux 26230, Fedora Workstation 29, and Ubuntu 18.10 for a look at the performance. All of the same hardware/environment was the same throughout the benchmarking process (the changes on the automated system table just come down to how each OS reports its CPU frequency such as base vs. turbo frequency reporting and other similar quirks in the hardware detection/reporting when in fact the same components at the same stock configuration were used). All of these BSD and Linux performance benchmarks were carried out using the Phoronix Test Suite.