Show Your Support: Did you know that you can get Phoronix Premium for under $4 per month? Try it today to view our site ad-free, multi-page articles on a single page, and more while the proceeds allow us to write more Linux hardware reviews. At the very least, please disable your ad-blocker.
AMD FirePro V3800 & FirePro V5800
Earlier this month we reviewed the brand new ATI FirePro V8800 graphics card, which was AMD's first workstation graphics card based upon the Evergreen GPU refresh (derived from the consumer-grade Radeon HD 5000 series ASICs), and it was a magnificent performer. The FirePro V8800 played well with AMD's proprietary Linux driver and the OpenGL performance was terrific with sizable gains compared to AMD's previous ultra high-end workstation graphics card, the FirePro V8750, that was launched last year. The FirePro V8800 also introduced Eyefinity support and other features to the AMD workstation world. This morning AMD is expanding their selection of new FirePro products based upon the Evergreen architecture with the introduction of the FirePro V3800 and FirePro V5800, which are to address the entry-level and mid-range workstation segments, respectively. We have been testing out these new AMD FirePro graphics cards over the past week and have the Linux benchmarks to share.
The FirePro V5800 is designed to be AMD's powerful mid-range performer that provides support for driving three displays, offers 2.5x the computing capability over their previous-generation mid-range ASICs, and has 1GB of GDDR5 video memory. The V5800 core is derived from the Juniper XT GPU, which is the chip found in the consumer-grade Radeon HD 5770. There are 800 stream processors to be found on this GPU, 64GB/s of memory bandwidth, and its power consumption is less than 75 Watts.
The FirePro V3800 is slated to be AMD's new entry-level offering for the workstation market with it being more for small form factor setups and is only capable of driving two displays. However, compared to their previous generation V3700 equivalent, the V3800 offers 10x the number of Stream processors with a count of 400. There is just 512MB of video memory on this PCI Express graphics card and its DDR3 memory being used and its memory bandwidth is just 14.4GB/s. The GPU is a Redwood Pro, which is what the Radeon HD 5570 graphics card uses. The FirePro V3800 consumes less than 50 Watts of power.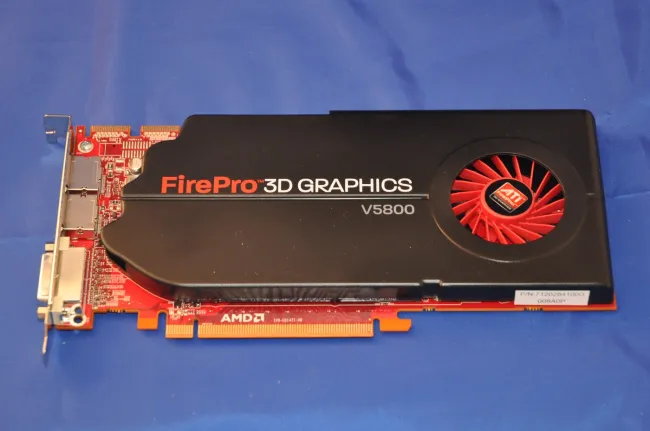 Filling the void between the FirePro V3800 and V5800 as a high-end, entry-level product is the FirePro V4800, which should also be launching today. We don't have our hands on this workstation graphics card to test, but it too offers support for driving three displays (two via DisplayPort and one via DVI-D), 1GB of GDDR5 video memory, 400 Stream processors, and its based upon the Redwood XT GPU, which is the Radeon HD 5670.
AMD sent the FirePro V3800/V5800 samples out to us last week, which we have been busy testing since. We received the cards OEM style without the usual retail packaging, but like the V8800 graphics cards, these new Evergreen workstation parts should also ship with DisplayPort to DVI-D adapters for those that need them.
We are the pioneers in providing quality pass4sure 70-653 dumps and other HP0-P14 prep resources. Our updated 1Y0-A17 study packages are available at cheapest cost.