AMD Radeon RX 7600 Linux Performance
For those that have been interested in the Radeon RX 7900 series for the great open-source driver support on Linux but have been wanting a cheaper graphics card and perhaps are a 1080p gamer, today's launch of the Radeon RX 7600 will surely be of interest to you. The Radeon RX 7600 is a nice lower-end graphics card for 1080p gamers and has upstream open-source Linux support already -- including the ability to run out-of-the-box already on Ubuntu 23.04 and other newer distributions. Here is my Linux performance review of the AMD Radeon RX 7600.
The Radeon RX 7600 is AMD's new sub-$300 graphics card that is launching for... $269 USD. This petite graphics card features 32 RDNA3 compute units, AV1 hardware encoding, and 8GB of GDDR6 video memory. Yes, only 8GB of GDDR6 is a bit of a let-down considering the needs of modern games and compute workloads, but at least for most 1080p and some lighter-weight 1440p games it's enough to get by.
Over the AMD Radeon RX 6600 graphics card, the Radeon RX 7600 has four more compute units, 2048 stream processors compared to 1792 with the prior RDNA2 card, higher clock frequencies, second-generation AMD Infinity Cache (32MB), DisplayPort 2.1 capable, and AV1 hardware encoding. The Radeon RX 7600 has a total board power rating of 165 Watts compared to the RX 6600 having been at 132 Watts.
A lower-priced AMD Radeon RDNA3 graphics card with AV1 acceleration will excite a number of Phoronix readers.
The Radeon RX 7600 series will be available at retail starting tomorrow (25 May) while today marks the review embargo lift.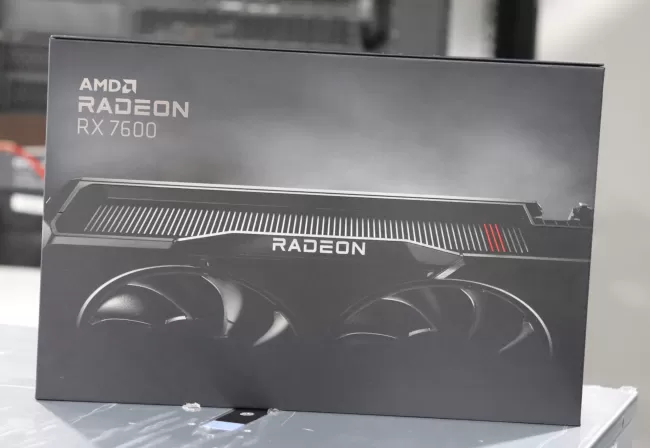 The good news is there is already Radeon RX 7600 series support upstream in the Linux kernel and Mesa for a while. If you are running on a 2023 Linux distribution like Ubuntu 23.04 or Fedora 38, you should be in good shape for popping in this new RDNA3 graphics card and enjoy out-of-the-box 3D acceleration.
For those on older Linux distributions like the enterprise releases with Ubuntu 22.04, you will need for now to rolling your own kernel and Mesa or otherwise be content with using the AMD Radeon Software for Linux packaged driver.
The Radeon RX 7600 is identified as a GFX1102 GPU with the initial enablement code having hit the kernel and Mesa last year.
Of course, for the best at-launch experience if you are using the very latest Linux kernel and Mesa you're to see the best support. For my initial testing of the Radeon RX 7600 series it was smooth both on Ubuntu 23.04 and then when moving to Linux 6.3 stable and Mesa 23.2-devel (Oibaf PPA) for the very latest open-source graphics driver support.
Thanks to AMD for providing the Radeon RX 7600 review sample to allow for launch-day Linux testing at Phoronix.