Setting Up A MoCA 2.0 Ethernet-Over-Coax Network, Linux LAN Benchmarks
The MoCA 2.0 specification is six years but there still aren't many consumer devices making use of this "Multimedia over Coax Alliance" standard nor the newer MoCA 2.5 standard. But in looking for alternatives to Ethernet over powerline when expanding my network, I ended up setting up a MoCA 2.0 system while running some Linux performance benchmarks along the way.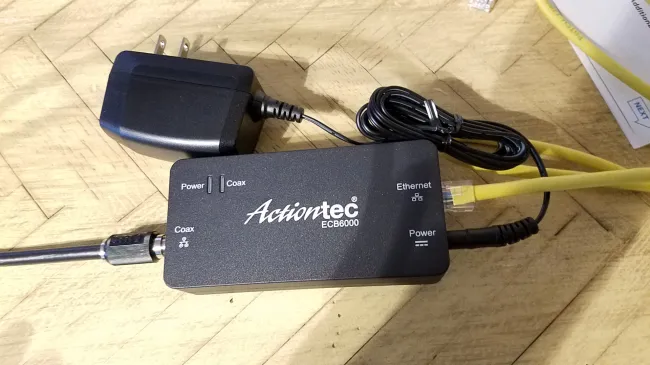 For those unaware of MoCA, it's an industry standard for allowing multimedia/Ethernet over traditional coax cable wiring. MoCA 2.0 has been around since 2010 and its basic standard allows for 400 Mbps throughput (or 800 Mbps throughput for bonded devices), a one in 100M packet error rate, sleep and low power modes, and uses 500~1650MHz for the operating frequency on coax cable. You can build your own network over the existing cable TV / coax wiring in your house and it's more reliable and faster than powerline Ethernet.
There remain few MoCA 2.0 devices on the market with among the few being from Actiontec. The Actiontec ECB6000 is a standard MoCA 2.0 device while the ECB6200 is a bonded MoCA 2.0 device for faster connectivity and also has a pass-through port on the device for still allowing a TV or other device to be connected. With each of these MoCA 2.0 devices you can connect a PC/router/device to them to expand your "wired" network via the coax cable in your house.
For adequate wireless coverage and offloading some of the wireless connectivity of my Nest smoke detectors, security cameras, and other WiFi-based IoT devices I had been using a wireless adapter connected to a secondary 802.11ac WiFi router. Though that's fairly slow especially with recently having connected the HD Nest Cam Outdoor. While having some older Ethernet powerline adapters, they are awfully slow, rather unreliable, and a hassle with for instance not being able to connect the Ethernet powerline adapter into a surge protector. Thus I decided to finally pickup some Actiontec MoCA 2.0 adapters for expanding my network.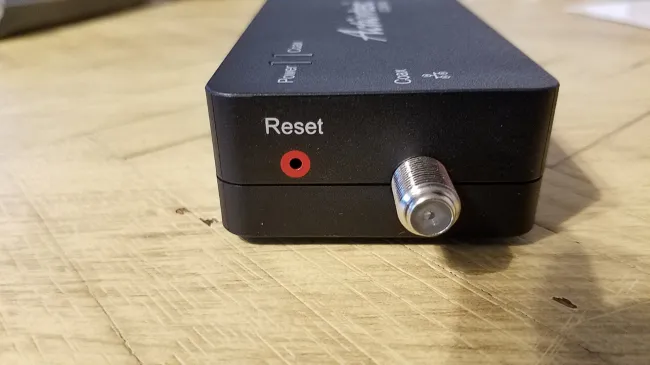 This was my first time dealing with MoCA adapters and it worked out well and actually exceeded my expectations. I have coax wiring in almost every room but it's gone unused except for one cable modem and then just making use of PlayStation Vue on my Fire TV Sticks / Roku devices for viewing on each of the TVs... So with MoCA 2.0 they are finally being used and actually these Actiontec adapters worked out fine. My "front office" is connected to the benchmark basement server room using CAT6 and is all hard-wired thanks to doing all of that, but dropping new Ethernet lines throughout the rest of the house isn't an option for being practical or affordable.
I ended up going for two double packs of the Actiontec ECB6000 over the bonded ECB6200 model. While the bonded model is faster, it's $20 more for a two pack and the speed difference isn't particularly of a big concern since it's just serving as a secondary network and not running any major performance-sensitive workloads. A two pack of the ECB6000K02 will set you back $129 USD. These adapters are a bit on the expensive side and not really having a selection of devices to choose from, but they get the job done and are better options than alternatives.
When setting up this MoCA network I used a MoCA POE filter for ensuring the signal doesn't leak outside of my house to any neighbors. Aside from that protection, no other equipment was necessary. There are various MoCA coax splitters being retailed that advertise up to 1675MHz compatibility, but that didn't end up beiung needed, at least in my case. With a traditional cable TV splitter that only advertises a frequency up to 1002MHz, it ended up working fine for me so while I had ordered a MoCA splitter -- and to find the ECB6000 does include a three-way splitter with the box, it wasn't needed.
I've been running the Actiontec MoCA 2.0 adapters for a few days now without any problems. It's a lot more reliable than when I used the powerline Ethernet adapters, a lot faster for the secondary router than connecting it via a wireless access point to the primary router, etc. Happy with the purchase. I do wonder whether it would have been a smarter investment going for the bonded MoCA 2.0 model (the 6200), but the speed anyhow is working out fine for my particular setup.
Benchmark data up next.