Linux 6.6 Adds New Sound Support For AMD Van Gogh, Valve Galileo
The sound subsystem and audio driver updates were merged last week for the ongoing
Linux 6.6
merge window. Interesting about the sound work this cycle is a fair amount of work around AMD Van Gogh platforms, which so far is just the APU that's known to power Valve's Steam Deck.
With the Linux 6.6 sound changes the Van Gogh machine driver has been extended to support a new variant based on the Nuvoton NAU88L21 codec and Analog Devices MAX98388 Speaker Amplifier. A few patches were needed for adding the MAX98388 support as to this point the AMD Van Gogh sound machine driver was just setup to use the NAU8821 and CS35L41. These sound patches were authored by Cristian Ciocaltea of Collabora, the open-source consulting firm that has done work for Valve among other clients.
Also interesting on the sound side for Linux 6.6 is AMD contributing
Sound Open Firmware
(SOF) support for Van Gogh. There are also the AMD Audio Co-Processor (ACP) changes around the NAU8821 and MAX98388 codecs.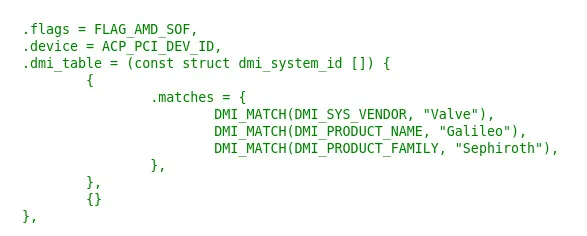 So why these Van Gogh sound additions now in Linux 6.6? There isn't a clear explanation but possible indications of a Valve Steam Deck refresh... The Steam Deck is the lone notable user of the AMD Van Gogh APU. Further pointing to a possible refresh or at least some new variant of the Steam Deck was found when I was scouring the new VanGogh SOF code. There is a new DMI entry that is for Valve with a new product name of "Galileo" and a DMI product family entry of "Sephiroth". To this point I haven't seen any other Valve Galileo entries around and with the existing Steam Deck the DMI product is known as Valve's Jupiter. It's also possible Valve Galileo may just be some reference board / developer hardware around the Steam Deck, but in any event it's curious to see these Van Gogh additions coming in Linux 6.6. If it is a new variant/refresh, it's rather modest sticking to Van Gogh rather than going for the Ryzen Z1 series with the Zen 4 CPU cores and RDNA3 graphics.
As for the rest of the new sound hardware support in Linux 6.6, sound subsystem maintainer Takashi Iwai sums it up as:
"Support for AMD Van Gogh, AMD machines with MAX98388 and NAU8821, AWInic AW88261, Cirrus Logic CS35L36 and CS42L43, various Intel platforms including AVS machines with ES8336 and RT5663, Mediatek MT7986, NXP i.MX93, RealTek RT1017 and StarFive JH7110"
Notable on the Intel side is the
HDMI codec ID for Intel Lunar Lake and the HD audio PCI ID has also been added for Arrow Lake S processors
.
See
the pull request
for the full list of sound updates for Linux 6.6.