Show Your Support: Did you know that the hundreds of articles written on Phoronix each month are mostly authored by one individual? Phoronix.com doesn't have a whole news room with unlimited resources and relies upon people reading our content without blocking ads and alternatively by people subscribing to Phoronix Premium for our ad-free service with other extra features.
Heterogeneous Memory Management Is Maturing, AMDGPU Support Coming
For the past four years now we have been monitoring the development of
Heterogeneous Memory Management
(HMM) for allowing the mirroring of process address spaces and other functionality particularly designed around modern GPU compute needs but also applicable to other devices/drivers. The HMM kernel code was merged to mainline last year while haven't seen much activity by the DRM drivers but that now seems to be changing.
Red Hat's Jerome Glisse who has been the mastermind behind of Heterogeneous Memory Management presented at this week's X.Org Developers' Conference (XDC2018) about this work. For those interested, the slides are now available
here
(PDF) that go over HMM.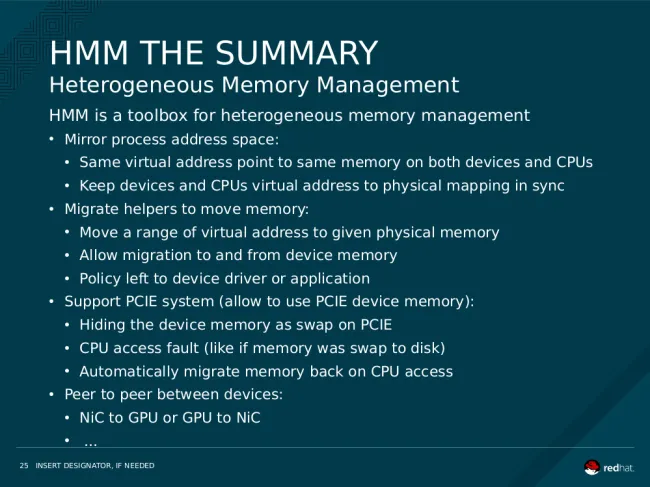 Some recent HMM improvements being worked on include generic page write protection, seamless peer-to-peer for device memory, integration with DMA/IOMMU, and other additions.
There have been out-of-tree Nouveau patches worked on for HMM, but not to much use given the current state of Nouveau compute and performance potential. But it is exciting that in recent weeks that the AMDGPU support is coming along. There have been
various
patches this month pertaining to hooking up different HMM bits for the AMDGPU kernel driver. And the
recent Vega 10 IH rings patches
are also related to this HMM upbringing. That upbringing isn't happening for Linux 4.20 but maybe we'll see it by Linux ~5.1.
Hopefully in 2019 we'll finally see more usage out of HMM.