Extending Ubuntu's Battery Life
All notebook processors from both AMD and Intel now support Cool 'n' Quiet or Enhanced Intel SpeedStep Technology, respectively, and CPUfreq for supporting this under Linux ships with Ubuntu. Installing cpufrequtils on Ubuntu provides cpufreq-info and cpufreq-set. The cpufreq-info program analyzes each CPU core and states the frequency steps, cpufreq governors, current power policy, and the current CPU frequency.
Now that you are conserving your CPU's power consumption, the next step is to reduce the power consumption for your notebook's GPU. For ATI Mobility Radeon GPUs (and some desktop Radeon components), the binary fglrx driver supports PowerPlay, which is similar to the CPU power-saving technologies. PowerPlay-supported GPUs have multiple steps for the GPU/memory frequencies and supplied voltage, which can be manipulated on Linux using the aticonfig utility. To view the available PowerPlay states for your hardware, run aticonfig --lsp. Once know your desired power-state, then just run aticonfig --set-powerstate=<state-number>. On supported distributions with bundled ACPI scripts in the fglrx package, when the laptop lid is closed the GPU can automatically switch to the lowest PowerPlay state (and switch back once opening the lid). For those with mobile GeForce/Quadro GPUs, there is NVIDIA's PowerMizer.
Once you have begun optimizing your notebook to extend its battery life on Ubuntu Linux, you can monitor your progress using the GNOME power applet and using gnome-power-statistics.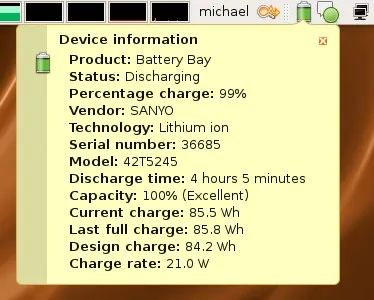 The gnome-power-statistics utility displays the power usage history for your computer since startup. The ACPI power consumption is graphed as well as indicating some events such as suspend/resume events, hibernation, laptop lid closure, and DPMS events. Furthermore, you can also view the history for the charge time, voltage, discharge time, and the accuracy of the charge/discharge times.
If you are very much devoted to extending your Linux battery life, last year at the 2007 Fall IDF, Intel had started the LessWatts.org initiative. This site contains detailed information on conserving power with Intel Linux systems. Topics from the tickless kernel to the battery life toolkit are covered as well as being the home to PowerTOP and other Intel projects. Feel free to share your battery results or power tips in the Phoronix Forums.
If you enjoyed this article consider joining Phoronix Premium to view this site ad-free, multi-page articles on a single page, and other benefits. PayPal tips are also graciously accepted. Thanks for your support.