Windows 10 vs. Ubuntu Linux With Radeon / GeForce GPUs On The Latest 2018 Drivers
Given how fiercely the latest open-source AMD Linux driver code is running now up against NVIDIA's long-standing flagship Linux GPU driver, you might be curious how well that driver stacks up against the Radeon Software driver on Windows? Well, you are in luck as here are some fresh benchmarks of the Radeon RX 580 and RX Vega 64 as well as the GeForce GTX 1060 and GTX 1080 Ti while being tested both under Microsoft Windows 10 Pro x64 and Ubuntu 16.04 LTS while using the latest AMD/NVIDIA drivers on each platform.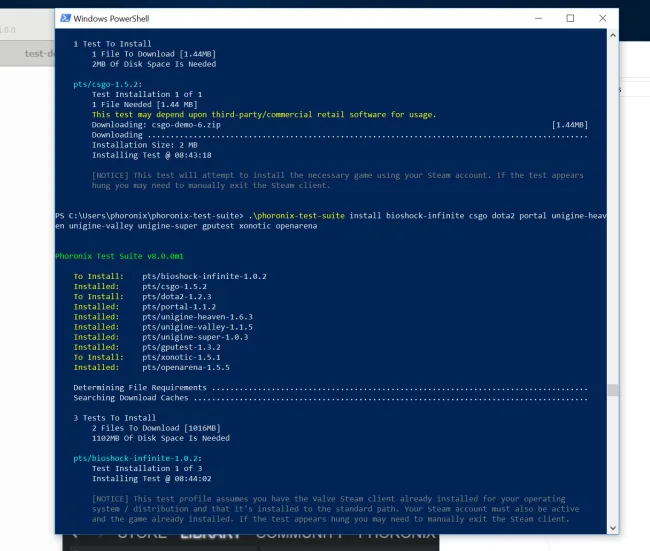 With the Radeon RX 580 and RX Vega 64 they were tested on Windows 10 using this week's Radeon Software Adrenalin 18.3.3 release. Of course, under Linux the driver stack was Mesa 18.1-devel as of this week built against the LLVM 7.0 SVN AMDGPU back-end as shipped by the Padoka PPA. The kernel was the current DRM-Next AMDGPU state for what will be shipped in the upcoming Linux 4.17 driver cycle.
On the NVIDIA side was the GeForce GTX 1060 as the comparable part to the RX 580 and then the GeForce GTX 1080 Ti as the highest-end consumer part from NVIDIA at the moment. On Windows the latest release as of testing was using the NVIDIA 391.24 driver while on Linux the latest driver release is 390.42.
The same system was used throughout all of this Windows/Linux gaming testing and it was powered by the Intel Core i9 7980XE (at default speeds, differences in the automated system table just come down to each OS exposes base vs. stock frequencies), 4 x 4GB DDR4-3200 memory, 256GB Intel SSD, and the respective graphics cards attached to a 4K Acer display.
All of these benchmarks were carried out using the Phoronix Test Suite with its new Windows support and the available cross-platform Windows/Linux test profiles featuring games like BioShock Infinite, Counter-Strike: Global Offensive, Dota 2, and others.