Ubuntu 9.10 Netbook Performance
There is just one week left until Ubuntu 9.10 "Karmic Koala" will be released, but is it worth the upgrade if you are running a netbook? From our testing of the development releases, it is most certainly worth the upgrade, especially when compared to Ubuntu 9.04 with its buggy Intel driver stack that caused many problems for Atom netbook users. Ubuntu 9.10 brings many usability improvements to the Linux desktop, various new packages, and the overall system performance has improved too. We have ran a set of benchmarks on both a Dell Inspiron Mini 9 and Samsung NC10 under Ubuntu 9.04 and 9.10 to illustrate the performance gains along with a few regressions.
The Intel Atom N270 CPU with an Intel Mobile 945GME Chipset with integrated Intel graphics powers both the Dell Mini 9 and Samsung NC10. The Inspiron Mini 9 though was loaded up with 1GB of RAM and an 8GB STEC PATA SSD while the NC10 ran with 2GB of RAM and a 32GB OCZ Core Series SSD. Clean installations of Ubuntu 9.04 "Jaunty Jackalope" and Ubuntu 9.10 "Karmic Koala" were done to both of these netbooks, which were then left to run with their stock settings, including the use of Compiz.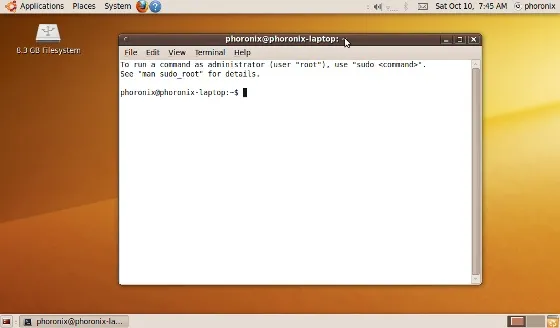 To recap, Ubuntu 9.04 shipped with the Linux 2.6.28 kernel, GNOME 2.26.1, X Server 1.6.0, xf86-video-intel 2.6.3, Mesa 7.4, GCC 4.3.3, and uses an EXT3 file-system by default. Ubuntu 9.10 is going to be shipping with the Linux 2.6.31 kernel, GNOME 2.28.0, X Server 1.6.4, xf86-video-intel 2.9.0, Mesa 7.6, GCC 4.4.1, and defaults to an EXT4 file-system.
The tests we ran to compare Ubuntu 9.04 and Ubuntu 9.10 on the Dell and Samsung netbooks were OpenArena, LAME MP3 encoding, 7-Zip compression, LZMA compression, IOzone, PostMark, SQLite, PostgreSQL, Crafty, GtkPerf, and QGears2. All of this testing was done through the Phoronix Test Suite, of course.