DDR4 Memory Scaling & DDR4-3600 Testing With AMD Threadripper On Linux
For those that may be looking at purchasing an AMD Threadripper this holiday season, especially with the recent price drops, here are some fresh memory tests on the Threadripper 1950X while running Debian GNU/Linux.
While AMD Ryzen/Threadripper prices have recently dropped, unfortunately, DDR4 memory prices remain quite high. If you are trying to figure out what to pursue for the system memory, I have carried out some fresh tests in different channel and speed configurations.
The memory configurations tested for this article basically came down to:
2 x 8GB DDR4-3200MHz
4 x 8GB DDR4-3200MHz
4 x 4GB DDR4-2133MHz
4 x 4GB DDR4-2800MHz
4 x 4GB DDR4-3066MHz
4 x 4GB DDR4-3200MHz
4 x 4GB DDR4-3600MHz
This was done for basically showing the impact of dual vs. quad channel memory on Threadripper and then also the impact of the memory frequency in different Linux/open-source workloads. The memory timings were not tweaked between the different frequency levels.
The 8GB DIMMs used were the G.SKILL TridentZ RGB F4-3200C16Q-32GTZR that is four sticks of DDR4-3200 memory at 8GB per DIMM. These sticks currently retail for ~$400 USD at NewEgg and Amazon. And, yes, this model is with the RGB lighting... (These sticks were provided by AMD with the Threadripper review sample.)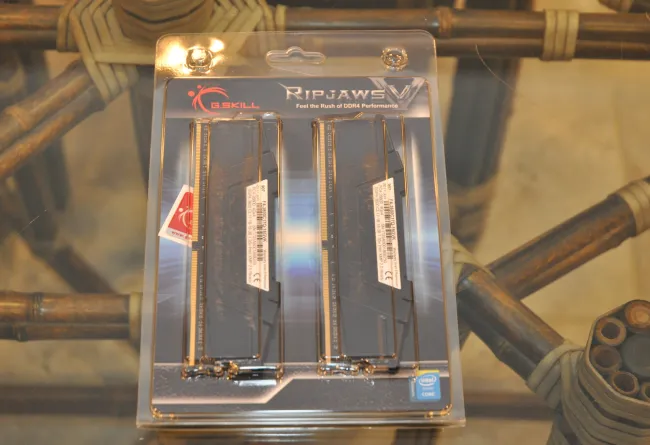 Meanwhile, the 4GB DIMMs used were the G.SKILL Ripjaws V Series (F4-3600C17Q-16GVK). This quad-channel memory kit was the cheapest 4 x DDR4-3600 memory kit I could find for testing. These DIMMs support DDR4-3600 speeds and 17-18-18-38 timings at 1.35V. While they are advertised for Intel Z170 systems, the Gigabyte motherboard used for testing has certified this memory for running at DDR4-3600 with Threadripper. This memory has worked out fine for my testing with the exception of OPM Git running into some crashes at the higher speeds, but all other workloads had run fine. This 4 x DDR4-3600 kit can be found for about $210 USD at NewEgg (also where I had purchased it from) or about $226 at Amazon, but that still puts it among the cheapest quad-channel DDR4-3600 kit.
With these memory modules and the above-mentioned configurations, a range of tests were run with the Threadripper 1950X + Gigabyte X399 AORUS Gaming 7 system running Debian 9.2.1 but with the manual upgrade to Linux 4.15 Git.