Show Your Support: Did you know that you can get Phoronix Premium for under $4 per month? Try it today to view our site ad-free, multi-page articles on a single page, and more while the proceeds allow us to write more Linux hardware reviews. At the very least, please disable your ad-blocker.
SilverStone TS421S 4-Disk SATA/SAS Disk Enclosure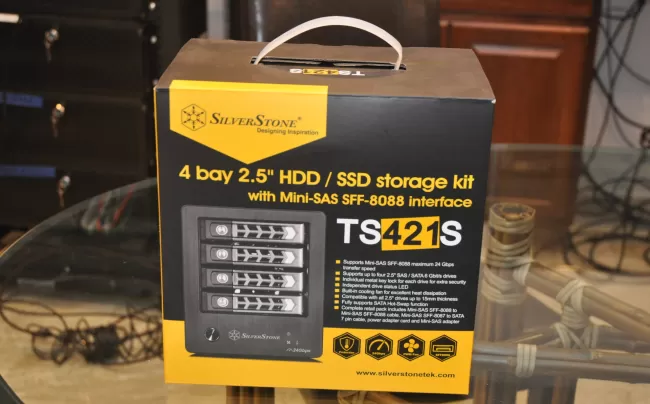 While SilverStone is mostly known for their computer cases, power supplies, and other peripherals, with the TS421S they have a compelling four-disk drive enclosure on their hands. The TS421S drive storage device supports up to four SAS/SATA 2.5-inch drives over a single mini-SAS SFF-8088 cable.
The TS421S is a four-bay storage tower with mini-SAS interface that supports 2.5-inch HDD/SSDs with hot-swap functionality. Each bay can be locked individually and this drive enclosure supports up to 6GBits/s transfers to each bay while using a single mini-SAS SFF-8088 interface.
Like SilverStone's cases, the TS421S is very well built with a metal chassis and weighs 1.4 kilograms empty. This 4-bay 2.5-inch drive tower measures in at 100 x 120 x 181 mm.
If using high-performance HDDs in this enclosure or just if the HDD/SSDs get warm otherwise, a 80mm PWM fan is at the rear of the enclosure. The TS421S also has a built-in overheating indicator as well as for any fan failure.
The SST-TS421S includes the SilverStone ECP01 expansion slot card, which allows a 4-pin molex or SATA power cable to be connected on the inside of the chassis and via the expansion slot on the exterior offers a DC 5V USB port for charging as well as a DC 12V port. That DC12V port and the included cable is the lone power source needed for this tower.
Also included as part of the SST-TS421S is a SilverStone mini-SAS SFF8087 to SFF8088 adapter. This adapter allows going from four internal SATA/SAS ports to a SFF8088 interface for then allowing a single SF8088 cable to be used as the 24Gbps data link between the system and the storage enclosure. Here's basically how it looks:
Here's how the configuration ends up looking, short of being installed: