AMD Vega 8 Graphics Performance On Linux With The Ryzen 3 2200G
Yesterday I posted the initial Ryzen 5 2400G Vega 11 Linux graphics benchmarks while for your viewing please today -- as well as this morning's 21-way Intel/AMD CPU Linux comparison that featured these new Raven Ridge APUs -- the results now completed are initial OpenGL and Vulkan performance figures for the Vega 8 graphics found on the Ryzen 3 2200G.
The Ryzen 3 2200G's Vega 8 graphics are a step below the Vega 11 graphics found on the Ryzen 5 2400G: 512 vs. 704 shader processors and a base frequency of 1100MHz vs. 1250MHz.
The Vega 8 experience on Linux was basically the same as the details outlined in yesterday's Ryzen 5 2400G Linux article. See that article for the full details as well as the Linux driver requirements. Long story short, some boots would show clear mode-setting/display issues on both Linux 4.15.2 and 4.16-rc1, this seemed to be particularly prone to problems after reboots rather than cold boots. On boots where the mode-setting/display was working fine, there are a handful of Linux games that did cause system hangs.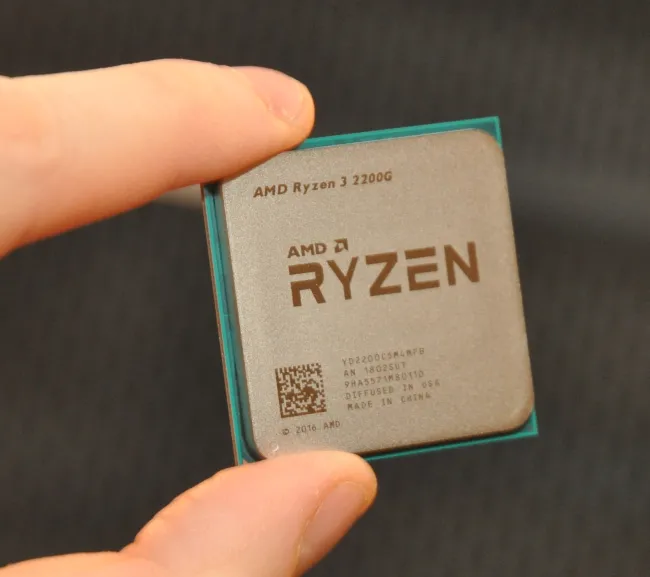 In the days ahead will be a comparison of discrete GPUs to these Vega 11 / Vega 8 graphics, but for this article the results are from Intel integrated graphics competition and an older AMD Kaveri APU. But in the case of Kaveri it too hit stability issues on the latest Linux driver stack and thus only could be used for some of the tests.
AMD 10-7870K - The Kaveri API with Radeon R7 Graphics. This APU had a 3.9GHz base frequency and 4.1GHz turbo for its four cores. The onboard R7 Graphics were GCN 1.1 era with eight cores / 512 shader processors and a base clock frequency of 866MHz. This Kaveri APU had a 95 Watt TDP.
Core i3 8100 - A current-generation Coffee Lake i3-8100 that is priced similarly to the Ryzen 3 2200G. The Core i3 8100 is quad-core with a 3.6GHz base frequency and it has UHD Graphics 630 that clock up to 1.1GHz.
Core i5 6600K - An older Core i5 Skylake with its HD Graphics 530 that clock up to 1.15GHz.
Core i5 8400 - The current-generation Coffee Lake CPU that currently retails for $199 USD, just a few dollars more than the price of the Ryzen 5 2400G when bought yesterday. This six-core processor with a 2.8GHz base frequency and 4.0GHz turbo. The CPU features UHD Graphics 640 with a maximum dynamic frequency of 1.05GHz.
Core i7 8700K - The high-end Coffee Lake CPU with six cores / 12 threads, 3.7GHz base frequency and 4.7GHz turbo frequency. This Coffee Lake CPU has UHD Graphics that clock up to 1.2GHz.
Core i7 5775C - The socketed Intel Broadwell CPU with Iris Pro Graphics 6200 having onboard 128MB eDRAM. The Iris Pro Graphics 6200 clock up to 1.15GHz. The i7-5775C itself is a quad core / eight thread processor with 3.2GHz base frequency and 3.7GHz turbo frequency.
All of these systems were tested while using Ubuntu 17.10 x86_64 with the Linux 4.15.2 kernel and Mesa 18.1-dev built against LLVM 7.0 SVN via the Padoka PPA. The GNOME Shell desktop was used but with the X.Org session. Each system had memory at its maximum number of supported memory channels and maximum supported frequency. The Raven Ridge APUs had 2GB of memory set as dedicated towards the Vega graphics. All systems were using their performance CPU frequency scaling governor.
With that said, here are the Ryzen 3 2200G and other graphics results under Linux with the newest AMD open-source driver code.