AMD Ryzen 5 2600 / Ryzen 7 2700 Benchmarks On Linux, 9-Way Ubuntu CPU Comparison
Last month we delivered launch-day Linux benchmarks of the Ryzen 5 2600X and Ryzen 7 2700X for these new "Zen+" processors while recently we received the non-X Ryzen 5 2600 and Ryzen 7 2700 processors for Linux testing as well. In this article are benchmarks of these new AMD Ryzen processors as well as other Intel/AMD CPUs for delivering a fresh nine-way Linux distribution comparison using the very latest software components.
As a refresher, these new AMD "Pinnacle Ridge" Zen+ processors feature dual-channel DDR4-2933MHz memory support (an upgrade over DDR4-2667 native support with the original Zen CPUs), they are manufactured on Global Foundries' 12LP process compared to 14LPP on the first-generation Ryzens. The 12LP process itself is a significant upgrade with now being able to achieve higher clock speeds, better overclocking, and slightly lower Vcore than the Ryzen 1000 series processors.
Both the Ryzen 5 2600 and Ryzen 5 2600X are six core / 12 thread parts with 512 KB L2 cache per core and a 16MB L3 cache. But the non-X version has a 3.4GHz base frequency rather than 3.6GHz with the X model and the boost clock rate is 3.9GHz rather than 4.2GHz. But with these lower clock speeds, the TDP on the Ryzen 5 2700 is just 65 Watts compared to 95 Watts on the X model. This slightly cut-down Ryzen CPU also retails for $199 USD or less compared to around $230 on the 2600X.
The Ryzen 5 2600 retail processor comes with an AMD Wraith Stealth Cooler, which gets the job done at least if you don't plan any significant overclocking.
All of the Zen+ Pinnacle Ridge CPUs feature the same AM4 socket support, dual channel DDR4-2933, 24 PCI-E lanes, and cache sizes.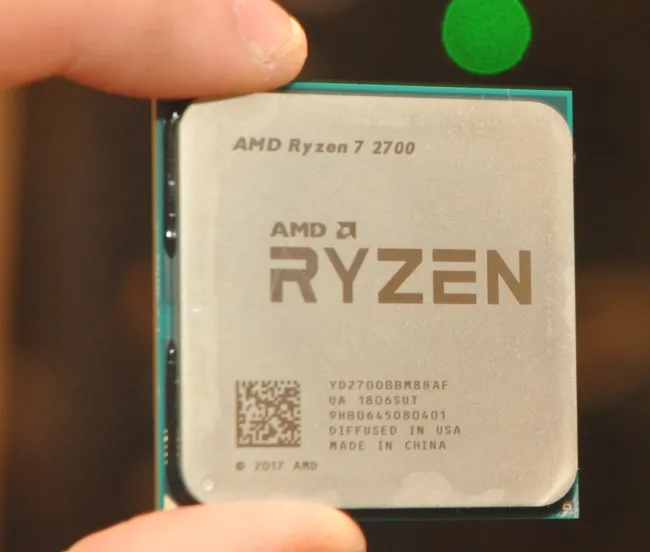 With the Ryzen 7 2700 and Ryzen 7 2700X they are both eight core / 16 thread parts while the differences again come down to the clock speeds and thus the TDP as well as the price. While the Ryzen 5 2600 saw a 200MHz drop in its base clock and 300MHz drop in its PB2 clock speed, the Ryzen 7 2700 difference is more significant. The Ryzen 7 2700 has a 3.2GHz base clock compared to 3.7GHz on the 2700X (a drop of 500MHz) while the PB2 boost clock speed is 4.1GHz compared to 4.3GHz.
But with the significant drop in the base clock speed allows the Ryzen 7 2700 to have a TDP of 65 Watts compared to the Ryzen 7 2700X at 105 Watts. It's about a $30 price difference between the Ryzen 7 2700 and 2700X with the non-X model retailing for just under $300 USD.
The Ryzen 7 2700 includes the Wraith Spire LED cooler compared to the Wraith Prism LED cooler with the hotter 2700X model.