RunAbove: A POWER8 Compute Cloud With Offerings Up To 176 Threads
RunAbove has launched the first major public cloud built around IBM's latest-generation Power 8 processors that when properly implemented can deliver up to 100 times the power of a classic x86 setup, according to the company. I've been running benchmarks in RunAbove's Power8 cloud the past few days and have been impressed, both with the performance and as my first time using the RunAbove cloud service.
RunAbove currently offers access to their Power8 cloud in two instance types:
- The Power8 S instance type has 8 threads, 4GB of RAM, and 10GB of local RAID storage. The Powe8 S instance type currently costs $0.05 USD per hour with a cap at $32 per month.
- The Power8 2XL instance type has 176 threads! The 176 threads along with 48GB of RAM, 480GB RAID-based storage, and there's just one VM per host. The 2XL instance costs $1.08 USD per hour with a cap at $700 USD per month.
Right now for all of the Power8 cloud offerings through RunAbove the only choice is using Fedora 19 as the operating system. They were using IBM pSeries hardware with the Power8E CPUs being clocked at 3.03GHz, and using QEMU. The default PowerPC64 packages with their Fedora 19 setup was using the Linux 3.14.17 kernel and GCC 4.8.3.
Using the RunAbove service was straightforward and easy. Those wishing to try out the PowerPC cloud can visit labs.runabove.com. When registering there's a complimentary $32 USD in credit to get started. The RunAbove folks that contacted Phoronix were also kind enough to send over some additional credit to allow spending more time in the cloud.
It's very easy launching a Power8 cloud instance in either the S or 2XL instance type. It would be nice to see a wider range of instance types available and of course to offer other Linux platform support too.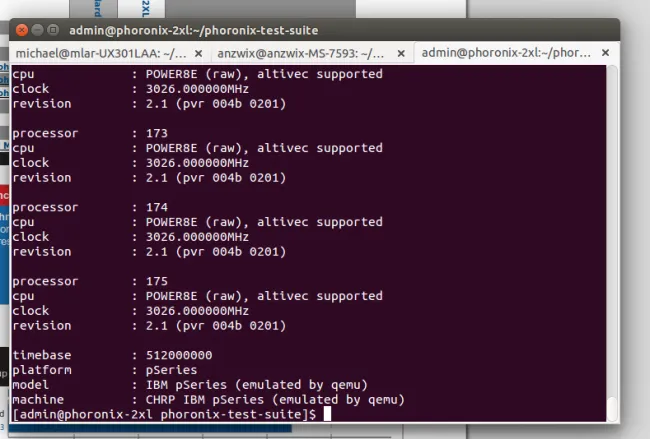 176 PowerPC threads quickly and easily available at just over one dollar an hour. RunAbove has data centers in both America and France.