Show Your Support: Did you know that the hundreds of articles written on Phoronix each month are mostly authored by one individual? Phoronix.com doesn't have a whole news room with unlimited resources and relies upon people reading our content without blocking ads and alternatively by people subscribing to Phoronix Premium for our ad-free service with other extra features.
Reiser4 File-System Benchmarks With Linux 4.17
It's been about three years since last carrying out any file-system performance benchmarks of Reiser4, but being curious how it stacks up against the current state of today's mainline Linux file-systems, here are some fresh performance tests of Reiser4 using the Linux 4.17 kernel. The Reiser4 performance was compared to Reiserfs, EXT4, Btrfs, XFS, and F2FS.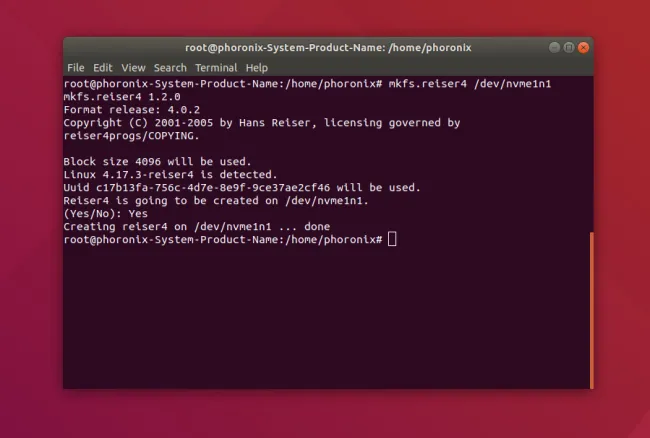 Reiser4 remains out-of-tree and there are no indications it's going to be mainlined anytime soon, if ever. While that's the case, there are still a small number of users and developers relying upon this next-generation successor to ReiserFS. The Reiser4 kernel code continues to be re-based against new upstream kernel branches and does occasionally see new features/improvements added in the process. Just a few days ago, Reiser4 was re-based for Linux 4.17.
Using the patch against Linux 4.17.3, I carried out some fresh benchmarks of Reiser4 for seeing how its performing these days using NVMe SSD storage and with the default mount options for it and the other tested file-systems. Again, the other tested file-systems were ReiserFS, EXT4, Btrfs, XFS, and F2FS as the mainline competition.
The Samsung 970 EVO solid-state drive was used for testing on the Core i9 7980XE test system. All of these Linux file-system benchmarks were carried out using the Phoronix Test Suite benchmarking software.