Razer DeathAdder 1800DPI Gaming Mouse
Mouse support on Linux is a rather interesting matter. While they are not nearly as complex as say graphics cards, which now are becoming well supported in the open-source world from ATI/AMD and Intel and third party efforts by the community for other hardware, there really is no movement at all about better supporting mice and other gaming peripherals under Linux. Sure, nearly all USB 2.0 mice will work under Linux using the generic input driver to provide the basic functionality, but with high-end mice these days you then miss some of the extra functionality like changing the polling frequency, easily programmable buttons, adjusting the mouse's sensor, and other features.
There are some community projects like Lomoco for providing configuration controls for Logitech mice under Linux, but this project and others have not exactly moved along at a brisk pace even though mice drivers are much simpler than say graphics cards or most other hardware components. For Razer mice, there was RazerTool, a simple project to provide some basic tweaking options for select Razer mice under Linux, but that project has been defunct since early 2007. Even with the lack of configuration tools or specialized drivers for Razer mice (or keyboards and other peripherals) on Linux, we still end up falling in love with their hardware as the build quality of their products are phenomenal, the products we have tested have been designed very well, and they really have just been excellent products. Back in February of 2007 we tested out the Razer DeathAdder, which was an example of a great Razer product and received our Editor's Choice Award, but today we are trying out the 1800 DPI version of their DeathAdder gaming mouse.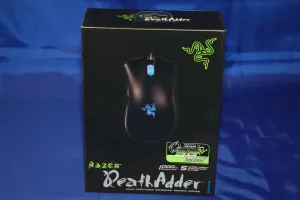 This Razer mouse we are testing out today ends up being nearly the same as the DeathAdder that was reviewed three years ago, but rather than boasting a maximum 3500 DPI sensor, this model maxes out at just 1800 DPI for its 3G infrared sensor. Other features of the Razer DeathAdder (many of which are the same as the 3500 DPI model) include an ergonomic right-handed design, 1000Hz Ultra-polling, 1ms response time, five independently programmable Hyperesponse buttons, on-the-fly sensitivity adjustments, ultra-large non-slip buttons, 16-bit wide data path, 6400 frames per second, 60-120 inches per second, Zero-acoustic Ultraslick Teflon feet, gold-plated USB connector, and a seven-foot non-tangle cord. Their Razer drivers and software officially support the Razer DeathAdder on Windows XP, Windows Media Center Edition 2005, and Vista. Going back a few years at one point Razer did say they would provide this software under Linux, but they ended up recanting on the matter.
The Razer DeathAdder 1800DPI arrived in a green and black themed package that is similar to that of Razer's many other mice. Inside was the USB 2.0 gaming mouse itself, a driver disc, quick start guide, and the usual "Razer Certificate of Authenticity" paper. The last Razer mouse we reviewed was the Salmosa Gaming Mouse in mid-2009 and since then some of the other Razer mice to have been introduced include the Mamba, Orochi, Naga, Abyssus, and Imperator.