NVIDIA GeForce GTX 750 Ti "Maxwell": A Great Mid-Range GPU For Linux Users
This morning NVIDIA is unveiling their "Maxwell" family of graphics processors that succeed Kepler. With some past generations of NVIDIA hardware we have had to wait a while as Linux users to see how they would work and perform under non-Windows platforms, but I can tell you this morning that the brand new GeForce GTX 750 Ti is already running great on Linux and is delivering terrific results as a sub-$200 mid-range NVIDIA graphics card. Here's the first Ubuntu Linux review of the GeForce GTX 750 Ti Maxwell graphics card.
The NDA has just expired on NVIDIA's Maxwell so I can tell you now that at Phoronix we have already been analyzing and testing the GeForce GTX 750 Ti Maxwell for the past week. The Maxwell GPUs will eventually assemble the GeForce 800 series but the hardware that NVIDIA is announcing this morning is the GeForce GTX 750 and GTX 750 Ti graphics cards. The GeForce GTX 750 is launching at a price of only $119 USD while the GeForce GTX 750 Ti 2GB is hard launching today at a price of $149 USD. (There will also be a GTX 750 Ti 1GB variant that's launching later this month at the competitive price of $139, but I would likely recommend just spending $10 more to get twice the video RAM capacity.) The GeForce GTX 750 Ti is targeting the mid-range segment of gamers, especially those that are cost conscious and may be depending upon an OEM PC that doesn't have a large PSU or any PCI-E power connectors, which is fine since this graphics card is incredibly power efficient. The GTX 750 Ti also opens up new possibilities for mini ITX systems with being so power efficient and the graphics card able to fit within these very small form factor enclosures.
Maxwell takes NVIDIA's self-described title of being "the most efficient GPU ever built" with a 35% performance improvement per core over Kepler and a two-fold increase in performance-per-Watt over Kepler. The strides in power efficiency were made by advancing the SM control logic with Maxwell so each block only has to manage 32 cores each instead of 192 cores with Kepler, which allows for better scheduling/threading. There was also other power optimizations made at the die level. NVIDIA claims the power efficiency of their hardware has advanced four times in four years when comparing the GeForce GTX 550 Ti "Fermi" to the GeForce GTX 750 Ti "Maxwell" graphics cards.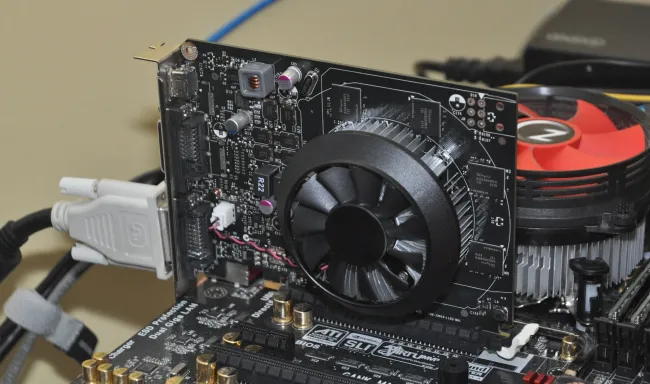 The GeForce GTX 750 Ti has the "GM107" graphics processor with 640 CUDA cores, a 128-bit memory bus with 2GB of GDDR5 video memory (the 1GB variant will come later in February), and features NVIDIA GPU Boost 2.0 Technology. The base clock speed on the GTX 750 Ti is 1020MHz while the Boost Clock speed can safely ramp up the GM107 GPU to 1085MHz. The memory clock is 5400MHz (GDDR5). At the end of the day, the GTX 750 Ti is expected to deliver twice the performance of the GTX 550 Ti while consuming just 60 Watts in comparison to the GTX 550 Ti Fermi at 116 Watts. The GTX 750 Ti should also be capable of slaughtering its AMD competition, the Radeon R7 260X in particular, while also running at just a fraction of the power.