NVIDIA GeForce GTX 1050 OpenGL/Vulkan/OpenCL Linux Performance
Earlier this week NVIDIA began shipping the GeForce GTX 1050 graphics cards and our first review is of a Zotac GeForce GTX 1050 Mini. A GeForce GTX 1050 Ti Linux review is still coming up plus some other articles looking at performance-per-Watt and other interesting areas for these low-cost Pascal-based GPUs. Here are results of the latest NVIDIA Linux performance compared to the latest open-source AMD Linux driver with various Radeon GPUs.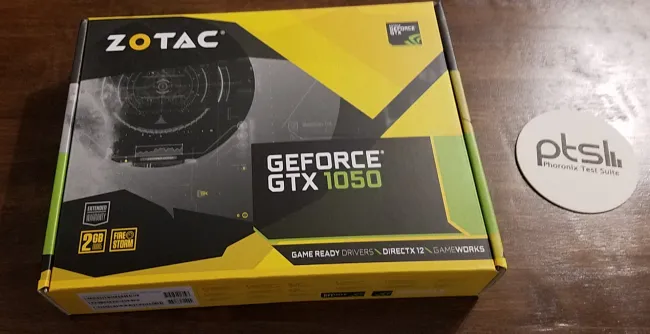 The GeForce GTX 1050 boasts 640 CUDA cores, 2GB of 128-bit GDDR5, and a boost clock up to 1455MHz. The Zotac GeForce GTX 1050 Mini being used for testing today has a core clock of 1354MHz and boost clock of 1455MHz. This small form factor card should work out well for SFF PCs and HTPC setups with a size of 5.7 x 4.3 inches, but sadly is still a dual-slot card. Like the other GTX 1050 cards, no external PCI-E power connection is required with consuming less than 75 Watts.
The ports on this $109 USD graphics card include dual-link DVI, HDMI 2.0b, and DisplayPort 1.4.
For our first Linux benchmarking comparison with the GeForce GTX 1050, its performance was compared on the NVIDIA side to the GeForce GTX 750, GTX 750 Ti, GTX 760, GTX 950, GTX 960, GTX 970, GTX 980, GTX 1060, GTX 1070, and GTX 1080. Tested on the AMD side was my available Radeon GPUs of the R9 285, R7 370, RX 460, RX 470, RX 480, and R9 Fury. The NVIDIA GTX cards were tested with the new 375.10 Linux display driver while the Radeon cards were tested with the open-source driver stack of Linux 4.8.4 + Mesa 13.1-dev Git built against LLVM 3.0 SVN using the Padoka PPA.
Due to having this card for just about 24 hours, this article offers just an initial look at the OpenGL / OpenCL / Vulkan Linux performance plus some thermal numbers for the GTX 1050 Mini. In a follow-up article will be the power consumption / performance-per-Watt metrics of the GTX 1050 / GTX 950 / GTX 750 / GTX 650 for a fun comparison of Pascal, Maxwell, and Kepler of these low/mid-range cards. Expect those results in the next few days plus the benchmarks from an EVGA GeForce GTX 1050 Ti.
All of the benchmarks for this article were carried out using the open-source Phoronix Test Suite benchmarking software.