MSI GeForce GT 1030: A $70 Passively-Cooled Graphics Card, Decent With OpenGL/Vulkan/OpenCL/VDPAU
If you are looking for a low-profile, passively-cooled graphics card, the GeForce GT 1030 launched last week and MSI is out the door with such a capable graphics card while only costing around $70~80 USD. Here are some Linux OpenGL, Vulkan, OpenCL, and VDPAU video acceleration benchmarks of the MSI GeForce GT 1030 compared to various other Radeon and GeForce graphics cards under Ubuntu.
The GT 1030 was announced by NVIDIA last week as their new low-end, Pascal-based graphics processor. The GT 1030 features 384 CUDA cores, 1468MHz boost clock speed, 2GB of GDDR5 memory sadly on a 64-bit interface, and has just a 30 Watt TDP.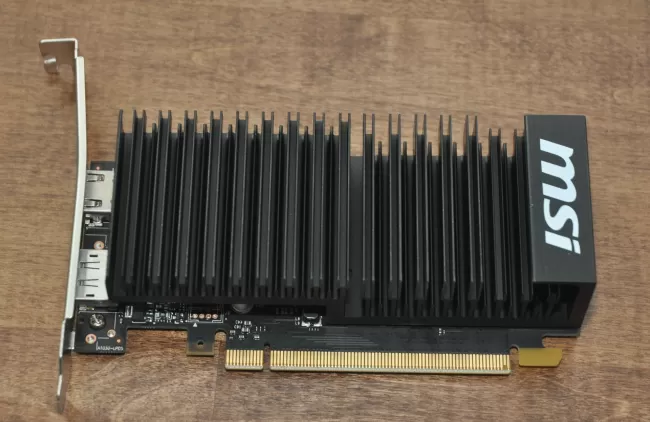 Many of the GeForce GT 1030 graphics cards currently available are low-profile, but this MSI model was the first I've found to be passively-cooled. I ended up purchasing this MSI graphics card for review on Phoronix. This card retails for about $73 USD.
The port selection on this low-profile MSI card is ideal with HDMI and DisplayPort, foregoing DVI, with most other GT 1030 cards currently available opting for HDMI + DVI. The dimensions on this card's PCB are 2.72" x 6.02".
The passive heatsink isn't skinny enough to make this a single-slot graphics card, but is advertised as being a "1.5 slot" solution by MSI.
Well, how does the GeForce GT 1030 passively-cooled perform? There are many benchmarks in this article to various other GPUs, including performance-per-Watt, GPU thermal, and system power consumption figures. Continue on for all of the data. As a quick reminder, if you enjoy all of our Linux hardware reviews, please consider showing your support by joining our club or read this article without an ad-blocker enabled. These means are the only way that Phoronix is able to continue, especially in cases like this of buying the hardware for testing instead of just a review sample. Premium members enjoy an ad-free site and multi-page articles on a single page, among other benefits.