Show Your Support: This site is primarily supported by advertisements. Ads are what have allowed this site to be maintained on a daily basis for the past 18+ years. We do our best to ensure only clean, relevant ads are shown, when any nasty ads are detected, we work to remove them ASAP. If you would like to view the site without ads while still supporting our work, please consider our ad-free Phoronix Premium.
Radeon Linux 4.6 + Mesa 11.3 vs. NVIDIA Linux Performance & Perf-Per-Watt
Last week I published a 16-way NVIDIA GeForce performance comparison on Linux looking at the OpenGL performance evolution from the GeForce 9800GTX to the GeForce GTX 980 Ti / TITAN X, in getting ready to compare the long-term NVIDIA Linux performance to Pascal. This week I've done similar tests on the AMD Radeon side and compared these OpenGL performance and power consumption / performance-per-Watt numbers to NVIDIA.
For this round of testing I was using the very latest open-source AMD support: the Linux 4.6 kernel and Mesa 11.3-devel from this week. The Mesa 11.3-dev deployment was via the Padoka PPA atop Ubuntu 16.04 x86_64. The DDX drivers were also up to date for the testing process via the Padoka archive. The rest of the Ubuntu 16.04 stack with Unity 7.4, X.Org Server 1.18.3, GCC 5.3.1, etc, were maintained the same as last week's NVIDIA GeForce test results done using the 364.19 proprietary driver. The same test system was obviously used with the Xeon E3-1280 v5 Skylake CPU, MSI C236A Workstation motherboard, 16GB of DDR4-2133 EUDIMM memory, and 120GB Samsung 850 EVO SSD.
On the red side the AMD graphics cards I had available included the Radeon HD 6950, R7 260X, R9 270X, R9 285, R9 290, R7 370, and R9 Fury hardware. That's what I had in stock with buying most of the GCN GPUs as opposed to being seeded with review samples by AMD. These numbers nevertheless should be interesting for comparison in AMD's upcoming Polaris launch to see how the AMD GCN (and Cayman) performance has evolved over the past few years. On the AMD side the graphics cards were the GeForce 9800GTX, GTX 460, GTX 550 Ti, GTX 650, GTX 680, GTX 710, GTX 750, GTX 750 Ti, GTX 760, GTX 780 Ti, GTX 950, GTX 960, GTX 970, GTX 980, GTX 980 Ti, and GTX TITAN X. I'll be adding in GTX 1070 and GTX 1080 when I get my hands on these graphics cards.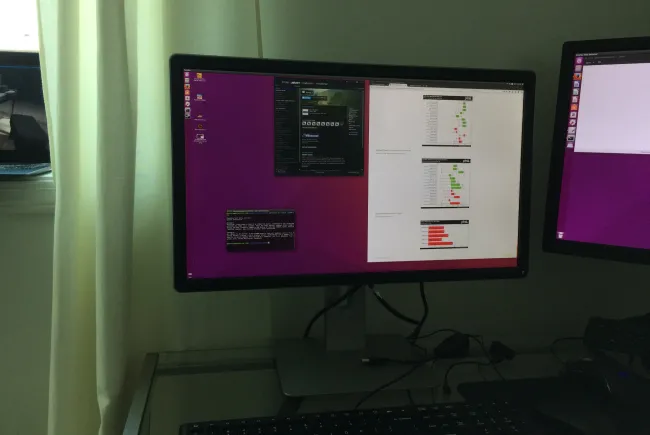 These OpenGL tests were done at both 1080p and 4K. The system power consumption was monitored using a USB-based WattsUp Pro power meter and the performance-per-Watt was automatically calculated via our open-source benchmarking software, the Phoronix Test Suite. Enjoy this wide range of NVIDIA and AMD OpenGL Linux results ahead of seeing how Pascal and Polaris perform on Ubuntu. As always, if you'd like to support all of the Linux hardware testing work done by your's truly and enjoy viewing this article on a single page and much more while your investment allows me to buy more hardware for testing, join Phoronix Premium today.