Happy Holidays! If you enjoy all the original Linux hardware reviews and open-source news content on Phoronix, consider joining Phoronix Premium this holiday season. For Black Friday / Cyber Monday, there is a cyber week special to go premium and enjoy an ad-free experience, native dark mode, and multi-page articles presented on a single page.
Keeping Intel Core X-Series CPUs Cool With Noctua Air Cooling
For this testing these different heatsinks were benchmarked using an Intel Core i9 7900X processor in the MSI X299 SLI PLUS motherboard, 4 x 4GB Corsair DDR4-3200 memory, Corsair Force MP500 240GB NVMe SSD, and a GeForce GTX 760 happened to be in the system at the time of testing. The system was running Ubuntu 17.04 with the Linux 4.13 kernel.
Each heatsink was tested while using fresh Noctua NT-H1 thermal paste, maintaining a stable ambient air temperature, and running within a Rosewill 4U enclosure. Via the Phoronix Test Suite a range of workloads were executed in a fully-automated, ordered, and standardized manner for being able to compare the thermal performance of these different Noctua heatsinks. Also tested was the Arctic Freezer i11. The i11 really isn't geared for the high-wattage X-Series processors but has generally been my go-to heatsink when needing an Intel heatsink to fit within a 4U space requirement, sufficient for air cooling up through the Core i7 series, and costing about $20 USD -- with price being one of my key factors when having dozens of rackmounted systems.
Installing these heatsinks were all very easy to do with the X299 socket, but with the Noctua NH-C14S being the most difficult. This air cooler is outright massive and especially when under-mounting the fan, it's very big to deal with and quite cramped in a traditional 4U enclosure. It was doable, just not as quick and easy as the smaller Noctua heatsinks. The NH-C14S design is also a bit not as well suited for straight front-to-back airflow of rackmounted enclosures. Even when adding the 140mm fan to the top of the heatsink, the NH-C14S could fit within the 4U height requirements.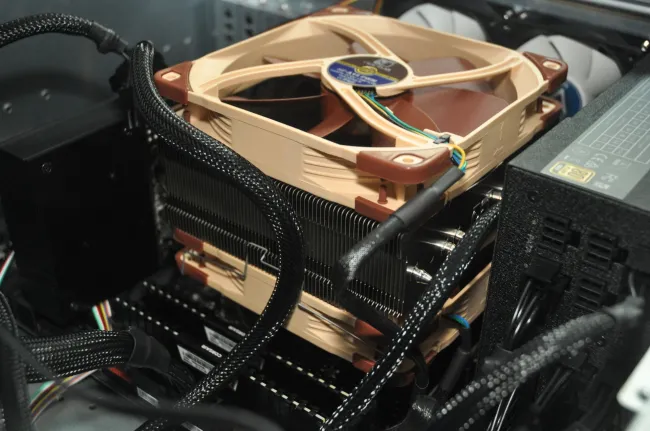 With the NH-C14S and NH-D9L, tests were done with both one and two fan configurations. With all of the tested Noctua air coolers, they were all able to effectively cool with the Core i9 7900X. It was only with the Arctic Freezer i11 where the i9-7900X would hit thermal throttling on the multi-threaded workloads due to it running too hot.