Show Your Support: This site is primarily supported by advertisements. Ads are what have allowed this site to be maintained on a daily basis for the past 18+ years. We do our best to ensure only clean, relevant ads are shown, when any nasty ads are detected, we work to remove them ASAP. If you would like to view the site without ads while still supporting our work, please consider our ad-free Phoronix Premium.
25-Way Open-Source Linux Graphics Card Comparison
As alluded to in days earlier after finding major open-source Radeon driver improvements -- including the newer RadeonSI Gallium3D driver -- I've been conducting a fresh graphics card comparison spanning many graphics processors and looking at the latest open-source driver performance on the Intel, NVIDIA, and Radeon fronts under Ubuntu Linux. In this article is a 25-way Intel Haswell HD Graphics vs. AMD Radeon vs. NVIDIA GeForce graphics comparison from Ubuntu 13.10 with the upgraded Linux 3.13 kernel and Mesa 10.1 development driver code to provide a very bleeding edge look at what the open-source drivers have to offer the Linux desktop users.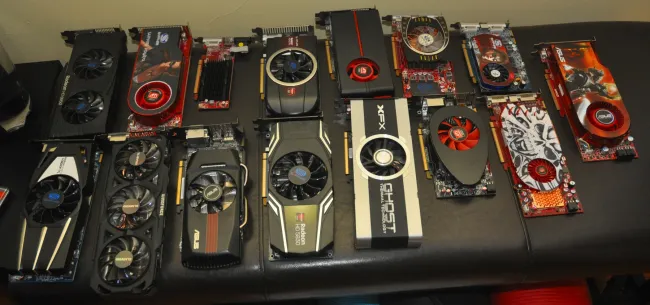 This article provides very straightforward results of what's easily obtainable for end-users right now with many different GPUs when using the latest Linux graphics drivers. This is a very recent look with using the brand new Linux 3.13 kernel release and then pulling in the Mesa 10.1-devel Git code and other new packages atop Ubuntu 13.10 using the Oibaf PPA. The driver stack used in this article should roughly be equivalent to what should be found in Ubuntu 14.04 LTS when it ships in April.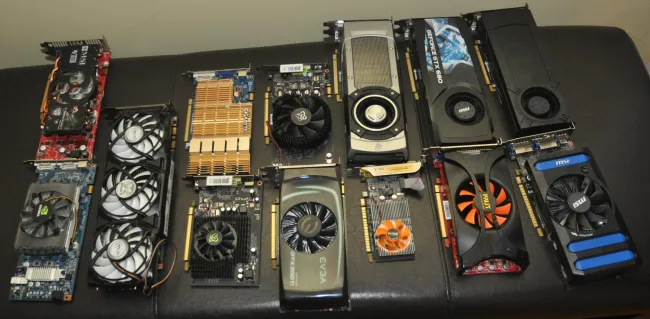 The selection of GPUs tested was limited by the hardware on hand and what GPUs were working fine with the latest open-source drivers. The big caveat with this testing is all of the issues found on Nouveau, the open-source NVIDIA Linux graphics driver. For open-source NVIDIA fans, read yesterday's prequel to this article: Open-Source NVIDIA Driver Is Still Sour For Some GPUs. That article covers all of the issues I ran into when testing various NVIDIA GeForce graphics cards on this unofficial open-source driver on Ubuntu Linux.
When it came to Intel testing we were limited to testing the HD Graphics 4600 found on the Core i7 4770K host CPU used throughout all of the testing. For other Intel Haswell graphics benchmarks see my recent Intel Core i5 4670 Linux review that compares the CPU/GPU performance to a few other Haswell processors. From earlier in the month I also have a dedicated Sandy Bridge vs. Ivy Bridge vs. Haswell graphics comparison.
On the Radeon side, the AMD open-source driver has matured quite a bit and is now in good shape -- especially with the recent Dynamic Power Management support. Aside from the newest Hawaii GPUs and such, there weren't many issues experienced when testing a large number of AMD Radeon GPUs into this testing mix. With Linux 3.14 the situation improves even more with continued DPM fixes and other tweaks.
Here's the rundown of all the graphics processors used for this round of open-source Linux GPU benchmarking on Ubuntu with Linux 3.13 + Mesa 10.1-devel:
- Intel HD 4600 (1250MHz)
- ECS NVIDIA GeForce 9500 GT 1024MB (400/399MHz)
- XFX NVIDIA GeForce 9600 GSO 512MB (399/399MHz)
- MSI NVIDIA GeForce 9800 GT 512MB (399/399MHz)
- NVIDIA GeForce 9800 GTX / 9800 GTX+ 512MB (399/399MHz)
- XFX NVIDIA GeForce GT 220 1024MB (405/324MHz)
- ECS NVIDIA GeForce GTX 460 768MB (50/135MHz)
- Zotac NVIDIA GeForce GT 610 1024MB (270/405MHz)
- NVIDIA GeForce GTX 680 2048MB (324/324MHz)
- NVIDIA GeForce GTX 760 2048MB (405/324MHz)
- NVIDIA GeForce GTX 770 2048MB (405/324MHz)
- Sapphire AMD Radeon HD 4670 512MB
- Sapphire AMD Radeon HD 4770 512MB
- AMD Radeon HD 4850 512MB
- AMD Radeon HD 4870 512MB
- ASUS AMD Radeon HD 4890 1024MB
- AMD Radeon HD 5770 1024MB
- Sapphire AMD Radeon HD 5830 1024MB
- HIS AMD Radeon HD 6450/7450/8450 1024MB
- Sapphire AMD Radeon HD 6770 1024MB
- Sapphire AMD Radeon HD 6870 1024MB
- Sapphire AMD Radeon HD 6950 2048MB
- ASUS AMD Radeon HD 7850 1024MB
- XFX AMD Radeon HD 7950 3072MB
- Gigabyte AMD Radeon R9 270X 2048MB
When it came to the frequencies being shown, for the NVIDIA hardware that was the core and memory frequencies being shown as what the Nouveau driver was running the hardware at... They're very low numbers sadly in most cases since the Nouveau driver still doesn't have proper re-clocking / power management support. I've already written about Nouveau re-clocking in dozens of other Phoronix articles so check them out if you're not aware of these current limitations. No frequencies were reported on the open-source Radeon side since their DRM driver still hasn't taken advantage of any frequency reporting via sysfs.