Show Your Support: This site is primarily supported by advertisements. Ads are what have allowed this site to be maintained on a daily basis for the past 19+ years. We do our best to ensure only clean, relevant ads are shown, when any nasty ads are detected, we work to remove them ASAP. If you would like to view the site without ads while still supporting our work, please consider our ad-free Phoronix Premium.
Linux 5.6 Is The Most Exciting Kernel In Years With So Many New Features
The Linux 5.6 merge window is anticipated to be ending today followed by the Linux 5.6-rc1 test release. This kernel is simply huge: there is so many new and improved features with this particular release that it's mind-boggling. I'm having difficulty remembering such a time a kernel release was so large.
The quick summary of Linux 5.6 changes include: WireGuard, USB4, open-source NVIDIA RTX 2000 series support, AMD Pollock enablement, lots of new hardware support, a lot of file-system / storage work, multi-path TCP bits are finally going mainline, Year 2038 work beginning to wrap-up for 32-bit systems, the new AMD TEE driver for tapping the Secure Processor, the first signs of AMD Zen 3, better AMD Zen/Zen2 thermal and power reporting under Linux, at long last having an in-kernel SATA drive temperature for HWMON, and a lot of other kernel infrastructure improvements. In our original monitoring of the kernel mailing list and Git activity, the big highlights for Linux 5.6 that have us excited include:
Processors / Platforms:
- Continued bring-up of Intel Jasper Lake, Tiger Lake, and Elkhart Lake platforms along with some missing Comet Lake PCI IDs in different drivers.
- A new, generic CPU idle cooling thermal driver.
- Linux 5.6 has mainline support for the Amazon Echo.
- Many other new ARM SoCs and boards supported.
- Continued Intel Gateway SoC enablement.
- Intel MPX support is completely removed.
- ASUS laptops with AMD Ryzen CPUs will stop overheating / severely down-clocking.
- Faster memmove() for Intel Ice Lake.
- Various x86 code improvements.
- The first tiny bits of AMD Family 19h support (Zen 3).
- The AMD k10temp driver finally starts reporting voltage/current for Zen CPUs and numerous thermal reporting improvements. This is a big step forward thanks to the community but unfortunate these Zen/Zen2 thermal/power reporting bits have taken so long and there are still some mysteries that remain.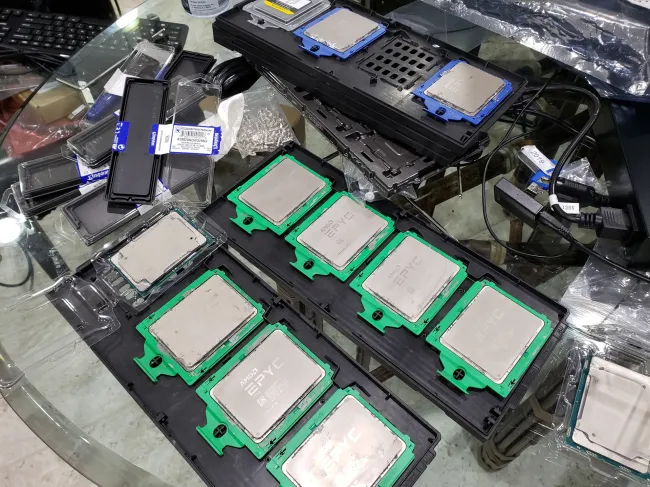 Graphics:
- NVIDIA GeForce RTX 2000 Turing support with the open-source Nouveau driver that can offer hardware acceleration but still relies upon the binary firmware (to be released) and yet to be made NVC0 Gallium3D changes for OpenGL support.
- AMDGPU reset support for Renoir and Navi.
- Continued Intel Gen11 and Gen12 graphics improvements.
- Many other DRM driver changes.
- Media driver improvements for Rockchip SoCs.
File-Systems / Storage:
- Async DISCARD support for Btrfs for better efficiency/performance.
- Experimental compression support for F2FS.
- The Zonefs file-system for zoned block devices is a new file-system with Linux 5.6.
- NFSD now supports server-to-server copies building upon the previously-merged NFS client support for SSC.
- The NFS client meanwhile can now use a cache if the NFS server connection is lost.
- Performance enhancements for FS-VERITY.