Show Your Support: Have you heard of Phoronix Premium? It's what complements advertisements on this site for our premium ad-free service. For less than $4 USD per month, you can help support our site while the funds generated allow us to keep doing Linux hardware reviews, performance benchmarking, maintain our community forums, and much more.
Intel Core i7 5960X Haswell-E On Linux
With the X99 burned-up motherboard problem of last week appearing to be behind us with no further issues when using a completely different X99 motherboard, here's the first extensive look at the Core i7 5960X Haswell-E processor running on Ubuntu Linux.
At the end of August when the processor was introduced I wrote all about the i7-5960X and X99 on launch day with the exciting details. The Core i7 5960X is an eight core unlocked processor with Hyper Threading to yield 16 threads, runs at a 3.0GHz base frequency with 3.5GHz turbo frequency, boasts 20MB of Intel Smart Cache, 40 PCI Express 3.0 lanes, and uses the LGA 2011-v3 socket. This launch is also Intel's first desktop platform using DDR4 system memory. Intel is also launching the Core i7 5820K and 5830K for the LGA 2011-v3 socket as six-core processors (plus Hyper Threading). All three of these processors have a 140 Watt TDP.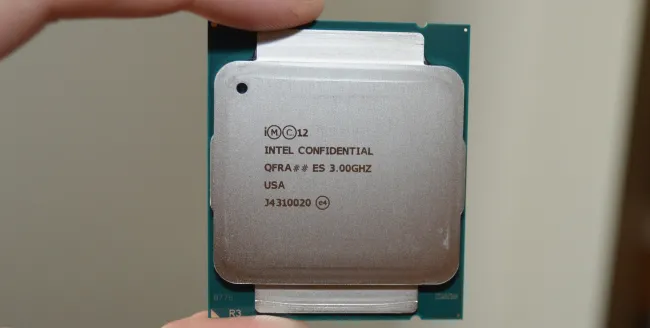 Given the many exciting aspects of Haswell-E there will be many Phoronix articles covering the i7-5960X, X99, and DDR4 under Linux from compiler benchmarks/optimizations to KVM/Xen virtualization testing to different distribution benchmarks to perhaps even some BSD OS benchmarking. In this article we're looking at the performance of the Core i7 5960X compared to many Intel and AMD processors while running Ubuntu Linux.
(If you wish to read this eight page article on a single page and without any ads, join Phoronix Premium to support this site and enjoy these benefits.)