Intel Core i5 3470
For the past month I have been testing out the Intel Core i5 3470 under Linux. Like Intel's other processors of recent years (well, ignoring the initial Sandy Bridge struggles), and just like the more expensive Ivy Bridge CPUs of this year, this mid-range quad-core processor is working very smoothly "out of the box" on modern Linux distributions.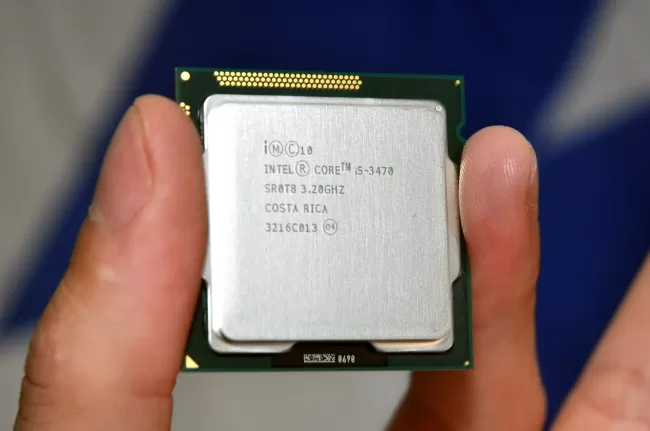 The Intel Core i5 3470 is an Ivy Bridge quad-core processor that goes without Hyper Threading, is clocked at 3.2GHz, features a 3.6GHz Turbo Boost, 6MB of Intel Smart Cache, and supports all of the normal Ivy Bridge x86_64 instruction set extensions like SSE 4.2, AVX, and the Bull Mountain hardware number generator. The i5-3470 carries a 77 Watt TDP and a box/retail price of about $195 USD.
The mid-range i5-3470 Ivy Bridge processor doesn't feature the high-end Ivy Bridge HD 4000 graphics, but the trimmed-down HD 2500 graphics. From the Core i5 3470 back in August, I already published my Ivy Bridge HD 2500 Linux graphics review. Intel was kind enough to send over this i5-3470 sample to provide for this Linux hardware review and more Ivy Bridge information to the Linux community.
The Intel HD 2500 graphics run at a base 650MHz with a 1.1GHz maximum dynamic frequency. The HD 2500 shares many common features though with the higher-end Ivy Bridge graphics like support for driving three displays simultaneously, FDI, Clear Video / HD video decoding (under Linux through VA-API), etc. Like Intel's other HD graphics products, the HD 2500 is backed by their actively-supported and reliable open-source Linux graphics drivers, but for more details see the i5-3470 HD 2500 review from last month as this article is focusing upon the CPU performance.
The only Linux support issue that users really need to worry about when installing a new Intel CPU is generally just ensuring their graphics stack is up-to-date assuming you're after using the integrated graphics. Most any Linux distribution from this year is in good shape for Ivy Bridge HD 2500/4000 graphics support, but the latest Linux kernel, xf86-video-intel DDX, and Mesa code will lead to the best results. Using a newer Linux kernel can also lead to some power management benefits and other small improvements, like with the CPU Idle driver support, but overall if you try using a modern Linux distribution on an Intel Ivy Bridge CPU you should be in good shape with the i5-3470 being no exception.
For those not up to speed on Ivy Bridge, see my original Intel Core i7 3770K Linux review from launch-day and the dozens of other Phoronix Ivy Bridge articles I have written in past months. Since April alone I have written 29 Ivy Bridge Linux articles on Phoronix looking at the graphics performance in different configurations, testing newer kernels, trying different 2D acceleration architectures, and various other tweaks. There have also been more than 100 Ivy Bridge news post references on Phoronix pertaining to the Linux support and advancements made by the Intel Open-Source Technology Center developers.