ECS Z77H2-A2X Ultimate Golden Edition Extreme
Now that a majority of the key Linux performance areas have been covered on Phoronix as it pertains to Intel's Ivy Bridge in dozens of different articles since its April launch date, it's time to say a few words about the "Panther Point" motherboard that was used for many of these Phoronix tests: the ECS Z77H2-A2X Ultimate Golden Edition Extreme.
I've had this Z77 Panther Point motherboard from ECS since even before the Ivy Bridge processors were introduced. As I said in mid-April, the ECS Z77 motherboard works great with Linux. I have not had any problems at all. Even after using this Z77H2-A2X motherboard in a majority of the Ivy Bridge Linux articles on Phoronix, it continues to work wonderful on Linux. This motherboard review itself is a bit tardy since there really has not been any major issues or problems where anything had to be immediately shared beyond my initial comments made about the product.
The ECS Z77H2-A2X is compatible with Intel Sandy Bridge and Ivy Bridge processors, sports four DDR3 memory slots up to 2800MHz in its top overclocked mode, there's two PCI Express 3.0 x16 slots, four Serial ATA 3.0 ports (and two Serial ATA 2.0 ports), Gigabit Ethernet, USB 3.0, and all of the other features that an enthusiast would expect from a top-end Intel motherboard.
CPU
- LGA1155 socket for new 3rd Generation Intel Core i7 series processor/Intel Core i5 series processor/Intel Core i3 series processor/Intel Pentium processors/Intel Celeron Processors
- DMI 5.0GT/s
- TDP: 125W
- Note: Please go to ECS website for the latest CPU support list.
CHIPSET
- Intel Z77 Express Chipset
MEMORY
- Dual-channel DDR3 memory architecture
- 4 x 240-pin DDR3 DIMM socket support up to 32 GB
- Support DDR3 up to 2800(OC)/2600(OC)/2400(OC)/2133(OC)/1800(OC)/1600 DDR3 SDRAM
EXPANSION SLOT
- 2 x PCI Express Gen 3.0 x16 slots
- 2 x PCI Express x1 slots
- 2 x PCI slots
- 1 x Mini PCI Express x1 slot
STORAGE
- Support by Intel Z77: 2 x Serial ATA 3.0Gb/s devices; 2 x Serial ATA 6.0Gb/s devices; RAID0, RAID1, RAID5, RAID 10 configuration
- Support by ASMEDIA ASM1061: 2 x Serial ATA 6.0Gb/s devices
AUDIO
- Realtek ALC892 8-Ch High Definition audio CODEC
- Compliant with HD audio specification
LAN
- RealTek RTL 8111E Gigabit
REAR PANEL I/O
- 4 x USB 3.0 ports
- 4 x USB 2.0 Ports
- 1 x D-sub(VGA)
- 1 x HDMI Port
- 1 x DVI Port
- 1 x RJ45 LAN connector
- 1 x Audio port (Line-in,4x Line-out, SPDIF out)
- 1 x Wireless LAN Dongle
- 1 x Bluetooth Dongle
- 1 x eSATA 3Gb/s port
SYSTEM BIOS
- AMI BIOS with 64Mb SPI Flash ROM
- Support ECS M.I.B X Utility
- Supports Plug and Play
- Supports ACPI & DMI
- Supports Plug and Play, STR (S3) / STD (S4) , Hardware monitor
- Audio, LAN, can be disabled in BIOS
- F7 hot key for boot up devices option
- Support over-clocking
- Supports Dual Display (Intel has Three Display)
- Support GUI UEFI BIOS
- Support Multi-language BIOS Utility
- Support eBLU
- Support eOC
- Support eDLU
- Support eSF
- Support EZ Charger
FORM FACTOR
- ATX Size, 305mm x 244mm
The ECS Z77H2-A2X also carries the other "special features" from the vendor like a super alloy choke, ECS Nonstop Technology, Gold "4" Ever, Lucid Virtu Universal MVP, M.I.B. X, 15u Gold Contact, etc.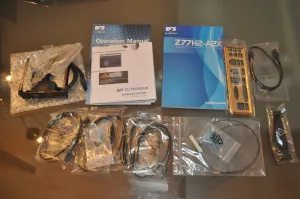 Included with the Z77H2-A2X motherboard was the usual assortment of accessories that are normally bundled with any high-end enthusiast motherboard: SATA cables, SLI bridge, plenty of documentation, etc. One extra item worth pointing out is an external 3.5-inch drive bay adapter provides two additional USB 3.0 ports off the motherboard's header.