ECS Z77H2-A2X Ultimate Golden Edition Extreme
Motherboard Layout:
The layout of this Z77 Panther Point motherboard is not very different from other ECS motherboards that have been reviewed on Phoronix in the past. With this being an "Ultimate Golden Edition Extreme" product and catered towards enthusiasts, there's plenty of gold accent on the motherboard from the heatsinks to some of the capacitors and even the LGA-115 CPU socket is gold colored.
For the four DDR3 DIMM slots, up to 32GB of dual-channel memory is supported and the stock frequency supported is up to 1600MHz. However, this motherboard does support DDR3-2800/2600/2400/2133/1800 memory in an overclocked mode.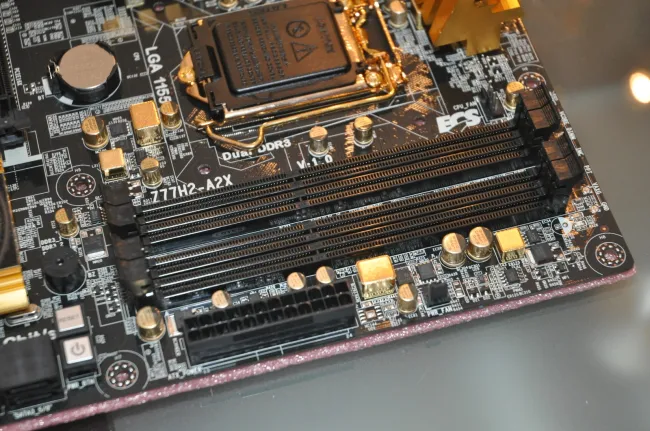 Below the DIMM slots there is integrated power and reset switches on the PCB itself, which is nice -- at least for our testing purposes of when the board is always running in an open-air environment. The Serial ATA ports are rotated 90 degrees and positioned along the edge of the PCB by the Z77 chipset. The Intel Z77 chipset provides two Serial ATA 2.0 (3.0Gb/s) ports on the motherboard and two Serial ATA 3.0 (6.0Gb/s) ports. These SATA ports are capable of RAID 0/1/5/10 configurations. An ASMEDIA ASM1061 controller provides an additional two SATA 3.0 ports.
In the bottom corner of the ECS motherboard is a 52-pin Mini-PCIe edge connector, for use with some PCI-E devices for laptops and other mobile devices, which may be of use to some users. The expansion slots on this motherboard include two PCI Express 3.0 x16, two PCI Express x1, and two PCI slots.