Intel Broadwell Laptop OpenGL Performance: Windows 10 vs. Ubuntu Linux
With having a new Intel Broadwell laptop for testing that came pre-loaded with Microsoft Windows 10 x64, I couldn't resist the opportunity to run some comparison benchmarks against Ubuntu Linux. The Intel HD Graphics 5500 were tested under Windows 10 and then under Ubuntu 15.10 -- both in a stock configuration and then switching over to the Linux 4.4 kernel with Mesa 11.2 Git.
The Toshiba Satellite C55-C5241 was used for this latest Linux vs. Windows benchmarking. This Toshiba laptop has a Core i5 5200U "Broadwell" processor with HD Graphics 5500. This laptop, which is the second most popular laptop right now on Amazon, has 8GB of DDR3L memory, 1TB HDD, and a 15.6-inch 1366 x 768 display.
After running the Windows 10 x64 Home tests, I loaded up Ubuntu 15.10 for the stock testing (Linux 4.2 + Mesa 11.0) followed by the Linux 4.4 and Mesa 11.2 Git upgrades. The Windows 10 driver for Broadwell exposes OpenGL 4.3 and OpenCL 2.0 support. Under Linux, the current Mesa code only exposes OpenGL 3.3 for all recent generations of Intel hardware. However, within the next few months, the Intel Mesa driver should finally be hitting around OpenGL 4.2 compliance. It likely won't be until well into 2016 though that Intel is supporting OpenGL 4.3. In terms of OpenCL compliance, Beignet provides OpenCL 1.2 support right now while they have an OpenCL 2.0 branch in development with no public indication of when they intend to have the OpenCL 2 support working or in released form.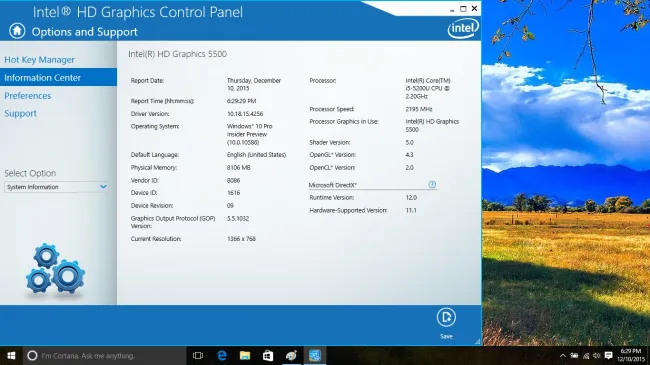 The OpenGL benchmarks ran on Windows 10 and Ubuntu Linux were limited to ones of similar quality under both operating systems and where it can be automated via the Phoronix Test Suite. If you would like to see more Windows vs. Linux compatible tests added, consider subscribing to Phoronix Premium. The funds from this ad-free, single-page-article viewing service go on to support all of our Linux/open-source operations at Phoronix and allow for more articles in the future.
If Broadwell graphics don't interest you, last month I did run some Skylake Windows vs. Linux tests, a NVIDIA comparison, and a Windows Catalyst vs. Radeon Open-Source match too.