Show Your Support: This site is primarily supported by advertisements. Ads are what have allowed this site to be maintained on a daily basis for the past 18+ years. We do our best to ensure only clean, relevant ads are shown, when any nasty ads are detected, we work to remove them ASAP. If you would like to view the site without ads while still supporting our work, please consider our ad-free Phoronix Premium.
Running Some Fresh Windows 10 vs. Linux Graphics/Gaming Benchmarks
My most recent
Windows 10
benchmarks compared to Linux were some
NVIDIA numbers from early August
. With the ever-advancing state of Linux graphics on both the open and closed-source driver fronts, I've started this week with doing another fresh Windows 10 vs. Linux performance comparison for Intel, AMD, and NVIDIA.
The tests are still in their early stages and being done on Windows 10 Pro x64 right now. On the Intel side will be some Skylake HD Graphics 530 results while for AMD and NVIDIA will use a few different Radeon and GeForce cards, respectively. For the Linux testing, I'm likely going to use Ubuntu 15.10 (that could change based upon Phoronix Premium reader requests) and then run the tests of Ubuntu 15.10 with Linux 4.3 + Mesa 11.1-devel + LLVM 3.8 SVN and then with the proprietary AMD/NVIDIA graphics drivers. Again, some of these details could change based upon reader interest over the next few days until I move onto running the Linux numbers. As shown already,
there isn't a big performance difference between Steam OS and Ubuntu
.
In terms of the tests, it's looking like it will be the usual Unigine, Xonotic, OpenArena, etc type tests as is common for my Windows vs. Linux comparisons. Those tests are known to be of similar quality under Windows and Linux and are fully-automated and reproducible in the same manner thanks to the open-source
Phoronix Test Suite
.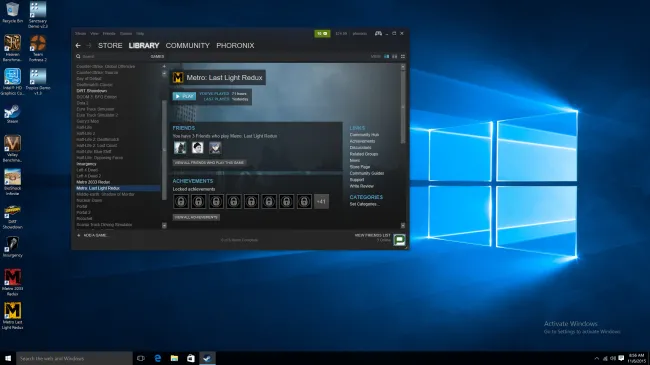 With this comparison I was looking at adding some of the Linux, automated-friendly Steam tests like Counter-Strike: Global Offensive, Metro Last Light Redux, and others, but it doesn't look like that will happen. After spending a few hours yesterday on some experiments, it would take much more time to port over these game tests to Windows in a manner that would be comparable to the Linux versions and reliable to the same level as my other Windows/Linux-friendly test scripts via PTS and OpenBenchmarking.org. With some of the games there are differences in how the benchmarks run along with different behavior for the video settings handling, etc. It'd probably take at least two solid days to get the interesting Linux vs. Windows Steam game tests adapted and fully-running under the Phoronix Test Suite. But as it's already hard enough making ends meet due to ad-blockers and the time consumed by running the normal Windows vs. Linux tests themselves, adding the Steam comparison isn't justifiable unless there's a lot of new
Phoronix Premium subscribers
or tips via
PayPal
or
Bitcoin
with people interested in seeing those tests added.
So long story short, in the next few days will be the start of some fresh Windows 10 vs. Linux graphics tests. If you have any feedback or wish to support this testing, please do so and share your thoughts by commenting on this article in the forums.