Show Your Support: Did you know that you can get Phoronix Premium for under $4 per month? Try it today to view our site ad-free, multi-page articles on a single page, and more while the proceeds allow us to write more Linux hardware reviews. At the very least, please disable your ad-blocker.
Building A Butcher Block Computer Desk To Comfortably Handle Six Monitors
With tiling the basement server room this month, I took the opportunity to build a new desk that's capable of easily handling six monitors while allowing for a better layout and more organization than before. Here are some details on building a butcher block wooden computer desk.
For managing the 60+ systems down there plus interacting with any PCs manually, working on ARM SBCs / developer boards, and similar situations, I had a few of these sub-$100 glass desks that I've been using for many years. Those glass desks continue to work out well for a cheap, L-shaped glass desk, but I wanted to make something more industrial to better handle the weight of being able to run many monitors off a single desk while not running into any problems. After all these years, you can still find these glass desks for just over $90 on Amazon where they are now up to 3,100 customer reviews with a 4.5-star rating. The benefit of moving to this heavier duty desk would also allow me to save space in the server room too by not having all of these glass desks around.
The plan I ended up going for was doing a butcher block countertop over some cabinets. It was cheaper than buying a really reliable wooden desk, allowed me to customize it as desired, and was fun along the way.
Much better than before! Saves space and is much better laid out, the wife is happy with it too and is easier for her to clean the server room. I'm still finalizing the layout of some things and wiring everything back up in the server room, but this is where things are at today.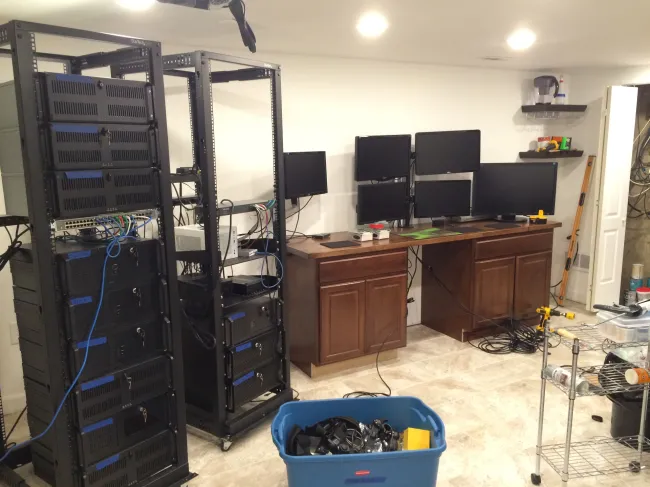 The main desk is an eight foot long slab of butcher block made from birch tree. Getting it unfinished is the way to go to save on cost and being able to finish it as desired.
Prior to staining it, I drilled a pair of 2-inch holes on each end of the desk for routing cables. In the center I also drilled a six-inch semi-circle. That larger circle was for being able to handle the monitor mount in the center that can withstand four displays. Plus that hole is still large enough for being able to route some cables from behind. The quad monitor LCD stand and dual monitor LCD stand I am using were the wonderful yet cheap Tyke Supply stands. The single monitor arm was the SilverStone Arm One.