Show Your Support: This site is primarily supported by advertisements. Ads are what have allowed this site to be maintained on a daily basis for the past 19+ years. We do our best to ensure only clean, relevant ads are shown, when any nasty ads are detected, we work to remove them ASAP. If you would like to view the site without ads while still supporting our work, please consider our ad-free Phoronix Premium.
AMD Ryzen 9 7950X3D Linux Performance
Ahead of tomorrow's launch of the AMD Ryzen 7800X3D / 7900X3D / 7950X3D processors, today marks the embargo expiry on the flagship Ryzen 9 7950X3D 3D V-Cache processor. Today I can share with you the initial performance around the performance of this $699 USD processor that features a 144MB cache.
Up for your viewing pleasure today are the AMD Ryzen 9 7950X3D Linux performance benchmarks - unfortunately, as of writing, no review samples have been sent out for the 7900X3D or 7800X3D models. The AMD Ryzen 9 7950X3D features 16 cores / 32 threads, 4.2GHz base clock with up to a 5.7GHz boost clock, 16MB L2 cache, and a 128MB of L3 cache. This 3D V-Cache model takes the Ryzen 9 7950X and doubles the L3 cache size from 64MB to 128MB but in doing so drops the base clock from 4.5GHz to 4.2GHz while also lowering the default TDP from 170 Watts to 120 watts.
As with the original AMD 3D V-Cache consumer processor, the Ryzen 7 5800X3D, the Ryzen 7000 series 3D V-Cache processors are targeting gamers and aiming to deliver the maximum gaming performance. Of course, with the Ryzen 7 5800X3D I also found it to perform extremely well for Linux technical computing workloads as a cheap processor with a beefy L3 cache alternative to the much more expensive Milan-X processors.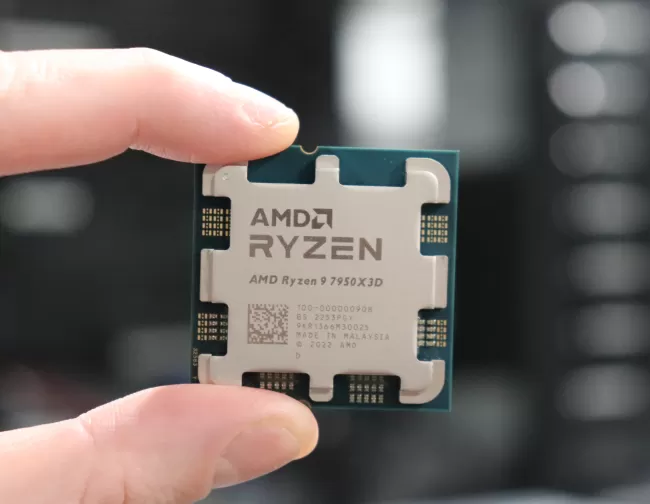 A sore point with the Ryzen 7900X3D / 7950X3D processors is that these dual-CCD chips don't have dedicated cache dies for each chiplet -- rather just one of the core complex dies has the 3D V-Cache. Thus there is the situation where some applications may run on the cores belonging to the CCD with the 3D V-Cache while other applications (or times running the same app/game) may hit the cores on the CCD without the 3D V-Cache. But on the CCD without the 3D V-Cache should be more thermal headroom and in turn potentially boosting higher. This added complexity has the potential of being more troublesome on Linux than Windows, to which AMD and Microsoft have been working to prepare Windows and the AMD drivers for properly determining proper core selection between cache and frequency preferences.
On the Linux side, there haven't been any AMD patches to optimize the Linux kernel around this differing of CCD characteristics for cache vs. frequency so that the kernel scheduler would be able to ensure optimized task placement. In any case even with running Linux 6.2 at least the Ryzen 9 7950X3D overall has been behaving well.
In my testing I have found the BIOS toggle for cache vs. frequency to have no measurable impact under a diverse range of Linux workloads. That's as of Linux 6.2 Git and using the current beta BIOS for the Ryzen 9 7950X3D support.
AMD's Windows drivers with the AMD 3D V-Cache Performance Optimizer Service evaluate performance in real-time and modifies the preferred cores handling based on workload for desiring frequency or cache. From the updated AM5 system BIOS areas is also the ability to override whether preferring cache or frequency preference. For communicating the core preferences to the operating system, AMD is relying on the ACPI CPPC Dynamic Preferred Cores handling.
So far I haven't seen AMD work on any Linux-specific 3D V-Cache performance optimizations for the 7900X3D/7950X3D with its two-die layout but will be interesting to see if such tuning comes. In any event as Linux stands today for many workloads the Ryzen 9 7950X3D is looking very good -- especially gaming. Thanks to AMD for providing the Ryzen 9 7950X3D review sample and other Ryzen processors for my Linux testing.