Show Your Support: This site is primarily supported by advertisements. Ads are what have allowed this site to be maintained on a daily basis for the past 19+ years. We do our best to ensure only clean, relevant ads are shown, when any nasty ads are detected, we work to remove them ASAP. If you would like to view the site without ads while still supporting our work, please consider our ad-free Phoronix Premium.
Athlon II X3 vs. Ryzen 3: How AMD's Performance Has Evolved & Performance-Per-Watt
Noticing I had an AMD Athlon II X3 425 system still racked up and hadn't been powered on in a long time, I decided to decomission it, but not before running some final benchmarks on that system. Having the recent AMD Ryzen 3 1200 / 1300X CPUs I decided it would make for an interesting comparison how the old Athlon II X3 compares to AMD's low-end CPU of today, the Ryzen 3 processors based on Zen. Here are those benchmarks that also include performance-per-Watt and overall AC system power consumption numbers.
The Athlon II X3 was an AMD chip from 2009 that came in at a 95 Watt TDP and were tri-core processors with being Propus/Deneb parts with one core disabled. These "Rana" CPUs were manufactured on a 45nm process and used the AM3 socket. The Athlon II X3 425 had a 2.7GHz clock frequency, 512KB L2 cache per core. The pricing of the X3 425 if my memory serves me was around $100 USD.
Compare that to today, the Ryzen 3 1200 is a true quad-core part that has a 3.1GHz base frequency, 3.4GHz turbo, 2MB L2 cache / 8MB L3 cache, and supports DDR4 memory. The Ryzen 3 1300X meanwhile has a 3.5GHz base frequency and 3.7GHz turbo while still having a 2MB L2 / 8MB L3 cache configuration DDR4 support, etc. The TDP on both these Ryzen 3 parts are 65 Watts and manufactured on a 14nm process.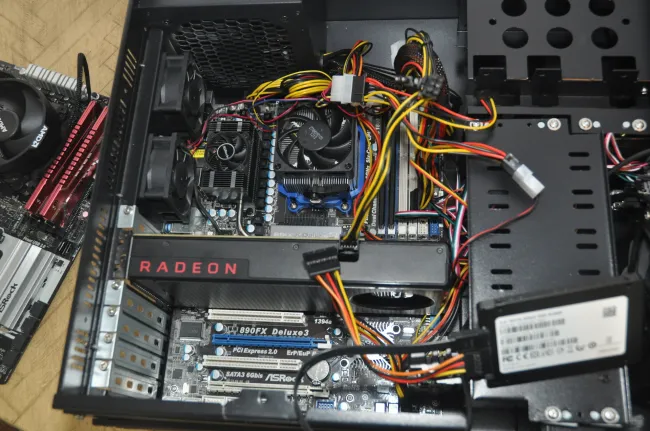 There's the obvious motherboard difference between the Rana and Zen tests as well as the system memory given the eight year span, but the storage (120GB ADATA SU800 SSD) and graphics card (Radeon RX 480) remained the same for this comparison. The software stack was also the same, running Ubuntu 17.04 x86_)64 with the Linux 4.13 kernel and Mesa 17.0 and making use of the GCC 6.3 compiler. No other changes were made and each system was running the CPU at stock frequencies.
These tests were mainly done out of curiosity and a final run for the Athlon II X3 before effective retirement. All of the benchmarks were done via the Phoronix Test Suite. Besides the tests being done in a fully-automated and reproducible manner, our software was also monitoring the AC system power consumption in real-time using a WattsUp Pro power meter in order to generate performance-per-Watt results.